EVENTS AT ROCKING K HORSE SALES






Congratulations to Breck Kruger & "Catch A Lena Star" on their win of the 10,000 Amateur with a score of 74!!!! At the "Summer Gala" NCHA Cutting in Nevis, MN. on 7/15/07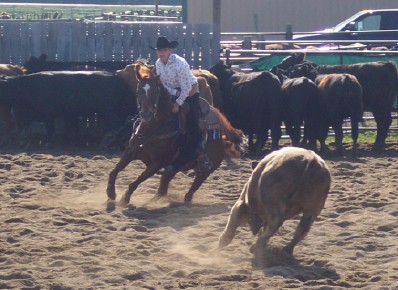 Brain Kruger & "Hickorys Date"
Summer Gala, Nevis MN. 2007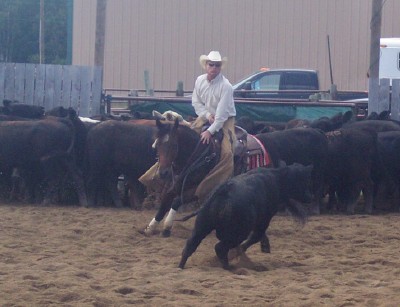 MD BARNS SILVER SPUR AWARD NOMINEES

The MD Barns Silver Spur Award is offered by AQHA. We have a Nominee right from Minnesota! Sunny is an AQHA mare that was purchased through the Rocking K Horse Sales Staff, We are proud to announce that she is in the "Top Five Finalist" You can cast your vote at www.aqha.com ( click magazine) and this will get you the story & tell you how to vote.
Or you can call AQHA @ (806) 376-4811 Nitro Up # 2527468
We are proud to announce that a Rocking K quarter horse is getting some special recognition. Nitro Up (Sunny), a 20 year old registered AQHA mare (#2527468) owned by Tim and Stephanie Hanson of Hanover , is a finalist for AQHA MD Barns Silver Spur Award, which honors American Quarter Horses who affect the lives of humans through outstanding training, contribution or accomplishment. Five horses are finalists, and each has a neat story. Sunny was nominated for the huge impact she has had on the Hanson family, particularly Joe Hanson. Joe, age 12, has autism, so he's prone to making noises and gestures that are peculiar. Autism also affects his ability to communicate with others. However, when Joe is riding Sunny, he's as calm as can be. Riding Sunny has made a huge difference in Joe's life, and the lives of all the Hanson family. You can read all about Sunny in November at www.aqha.com or in the AQHA Newsletter. If you are an AQHA member, and you appreciate Sunny as much as we do, you may vote for her between

NITRO UP
Nitro Up is a 1986 sorrel mare, and her owners feel "Sunny" is worthy of this award, because she's enriched the lives of so many people, starting with their family. Sunny was the family's first horse, purchased for Ranch Rodeo competition in 2002. At 16 years old, and just over 14 hands tall, Sunny's owners weren't sure if she was the right horse for them. Her Doc Bar breeding was evident. Sunny helped her owners win more than their share of cattle competitions and ranch horse shows at the Out West Arena in Buffalo, Minnesota.
But Sunny was just getting started. She's much more than a great cow horse - she's a priceless member of the family. She is a gentle and bomb-proof as they come. All three of the family's children ride Sunny. Lily, a 5-year old, gets Sunny loping with a simple "smooch." Maria, a 10-year old, rides Sunny in Ranch Horse Shows, regularly winning ranch cutting and versatility classes.
Sunny's most remarkable impact has been on Joe. Joe is 12, bright, cheerful and autistic. Having autism, Joe has difficulty talking with others, and he's prone to flapping his hands and making high-pitched squeals. This can be a little alarming to people who don't know Joe, but it doesn't bother Sunny. From the time Joe rode her, she didn't spook when he squealed or flapped. She lopes off, calm as can be. More importantly, Joe changes when he rides Sunny. He doesn't squeal or flap much anymore when he rides her. When he's riding Sunny, he carries on normal conversations with us. He's calm and happy, just like Sunny. For all the professional speech therapy Joe has received, it seems riding Sunny is the best therapy.
Just this past September 16, 2006, a barn kitty tried to jump up onto Sunny from a wooden bench. Maria was sitting on Sunny at the time. That kitten leapt up onto Sunny's hind quarters, claws extended, and landed just above Sunny's tail, then slid slowly to the floor. Sunny's reaction was typical. Unlike most horses, she quietly turned to see what was going on, and she didn't move an inch!
Sunny is a great ambassador for the breed, and we think she's one in a million. For all she's done for our family, we nominate Sunny for the MD Barns Silver Spur Award.