Mini & Toy Aussie breeder in Mn.
Puppies for sale now. Blue Merle's and Tri's
Excellent quality, smaller type without the sacrifice of quality!!

Contact Breck Kruger @ 320-905-2562
she has a beautiful selection of farm raised puppies ready right now.
4-24-17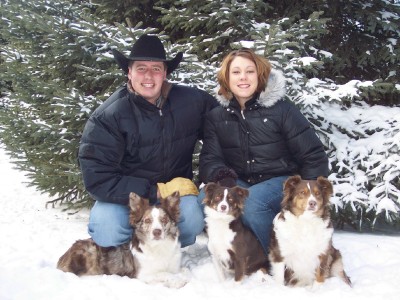 Please send me e-mails directly from your inbox, I do not get them by clicking this link.
breckolden@yahoo.com or krugers_2000@yahoo.com
We have Mini aussie & Toy aussie puppies for sale. Our dogs are Ranch raised and work our ranch with us all day, They jump in the truck and attend many horse auctions & horse shows with us. They have sound bodies, stout hearts, and a lot of try! Our puppies will definitely make your house a home! Please check us out for your next "Ranch Hand" or "Companion" Parents at the bottom of this page.

$200.00 deposit will hold you a puppy/ Non Refundable The adults are all Reg. with CKC, We sell our puppies with CKC papers. And we do not guarantee size.
We do everything we can to ensure the placement of a happy, healthy puppy. While we welcome anyone that would like to come see our puppies firsthand, we do ask that all of our guests help by not visiting multiple kennels in the same day. We request that you not come to us from another kennel, because this helps avoid exposing our kennel and puppies to any potential cross infections. Remember pups are not fully vaccinated until 20 weeks of age, so please do your part to keep each kennel you visit a safer place for the little ones.





*Please add $4.00 per $100.00 when using paypal. www.paypal.com
Send paypal payments to krugers _ 2000@yahoo.com




June 5th 2013 ( date of birth)
Shorty Lena & Bandit have puppies now... 9 in the litter 7 females / 2 males. Merles / Tri's reds & Blues. Excepting deposits now. they are going fast so contact Breck right away if you'd like more information on this litter. Will be toys & Mini's
This is an exceptional litter!!! If you like QUALITY you'll want to consider one of these puppies.
Call Breck for more information
320-905-2562

Dec. 7th 2012
Zoey x Balto 5 puppies
Penny is sold!
Patty WI.

She is a doll!! so full of personality and loves people and other pets. She is very small and will be a "hard to Find" Aussie. If you're looking for small, cute, and healthy, She's the one for you! She's had her 3 puppy vaccines and has had her health exam by my vet.

Tiny Toy red Merle female sold.
"Penny"
The smallest Aussie we have ever raised,
At 5 weeks & 3 days old she weighs 1 lb. 2 oz.
* At 14 weeks she is 2 lb. 8 oz.*
Pictures taken 3/16/2013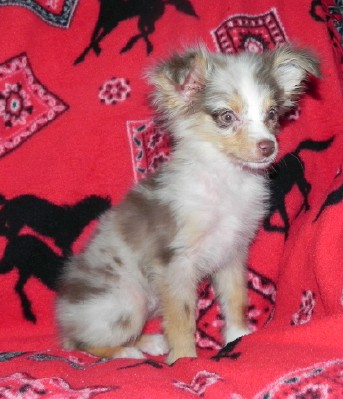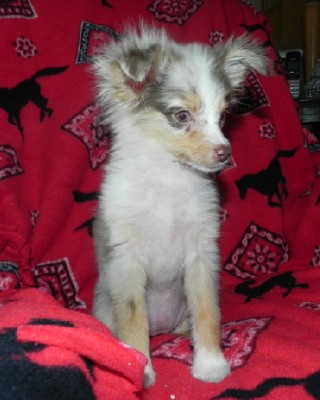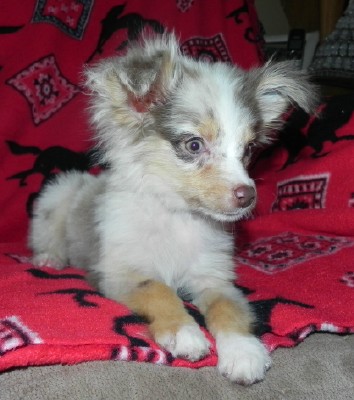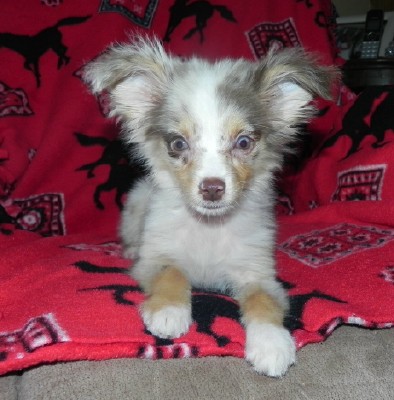 At 10 days of age she was given to a Maltese mom that had puppies, she was the same size as them, and didn't have to compete against her bigger siblings.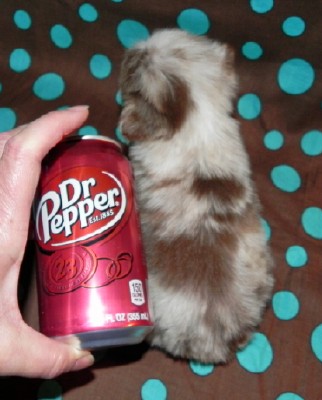 Pictures taken Sat. 1/19/13
Maltese weights 15oz. / 1lb 3oz./ Toy Aussie 1lb. 5 oz.
Penny the Toy Aussie is 10 days older then the Maltese.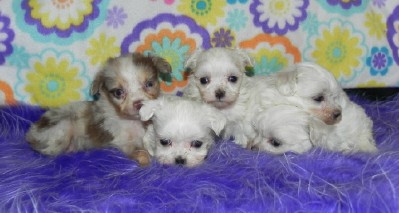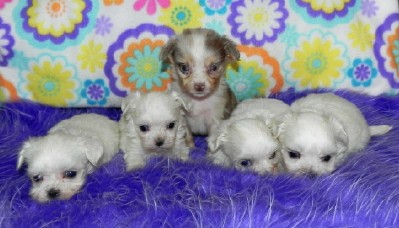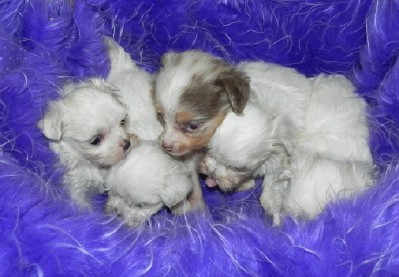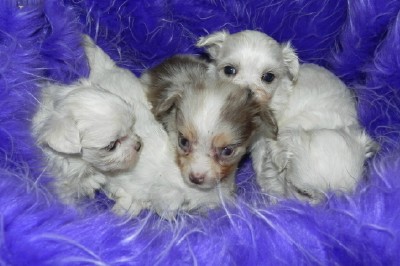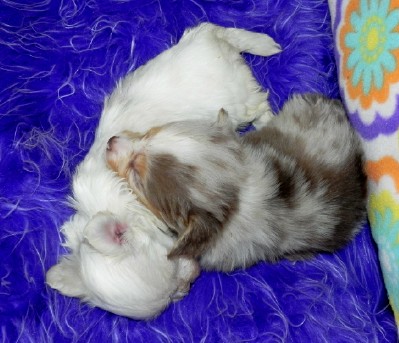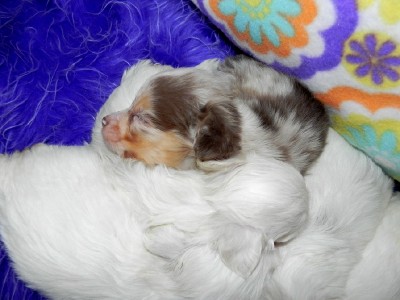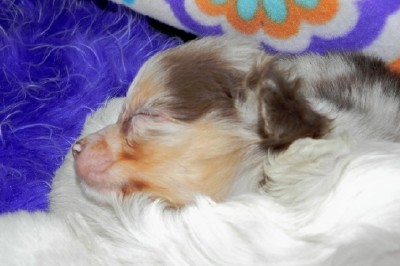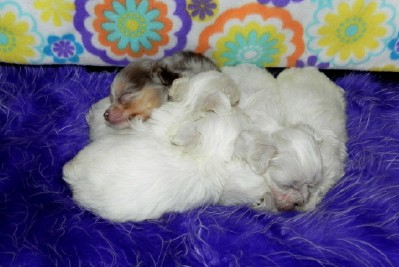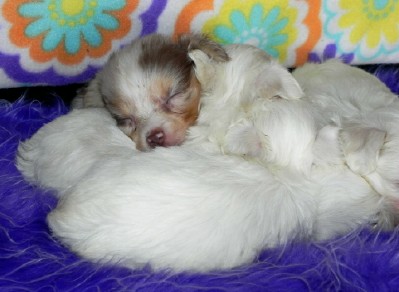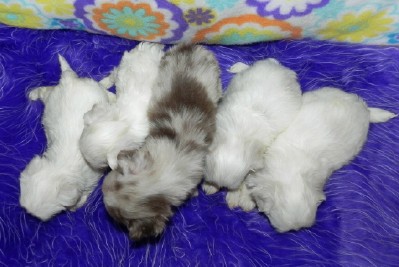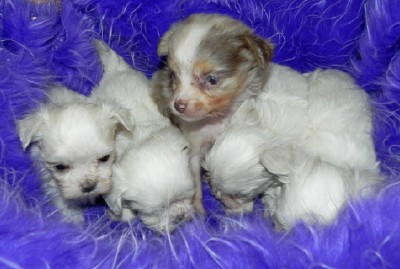 Mini red Tri female sold, Going to MT.
"Rosie"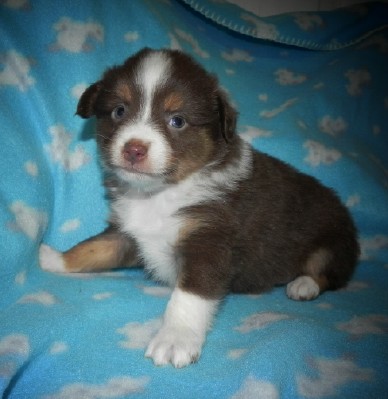 ******************
Toy Black Tri female sold
"Tulip"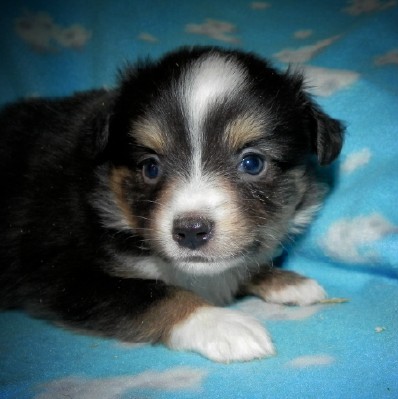 ******************
Toy Black Tri female sold Dave, MI.
"Daisy Mae"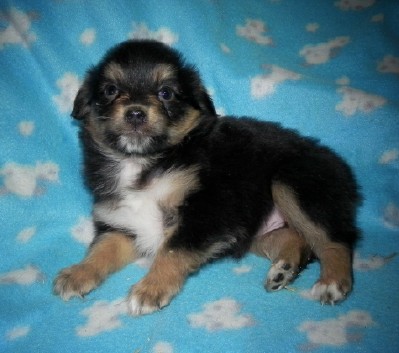 ******************
Red Merle Male ( sold)
"Cinch"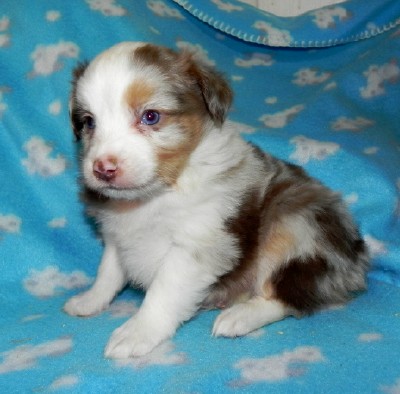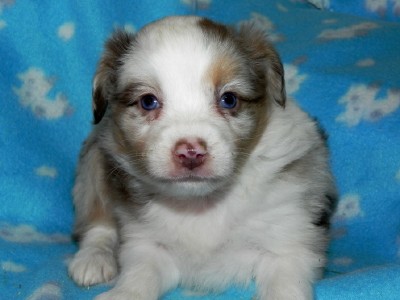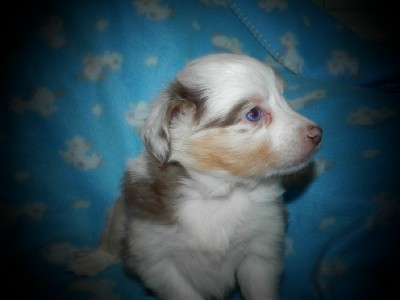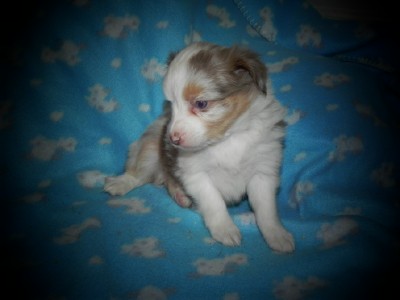 Nov. 30th 2012
Peaches x Balto Had 4 puppies

These are some really nice Mini Aussies, Mom is a good livestock dog, they will be the bigger style Mini Aussies. Puppies wills be vaccinated and wormed.
Played with daily by our 2 little boys. Please call Breck if you are interested in any puppies from this litter. 320-905-2562

Red Tri Male Sold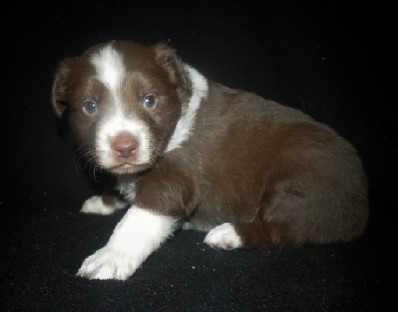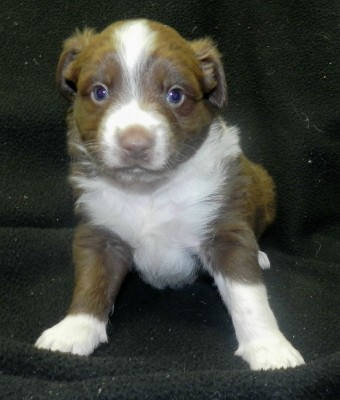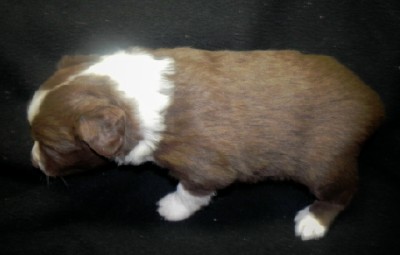 *****************
Red Merle Male sold Jessica, MN.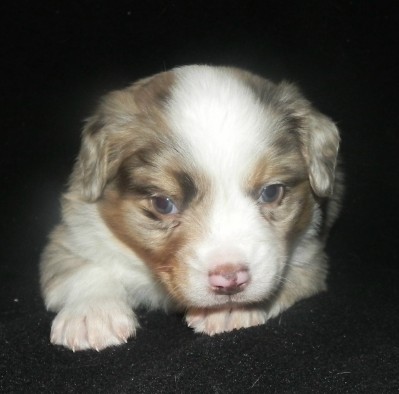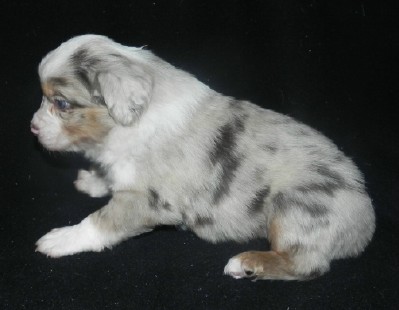 *****************
Blue Merle Female Sold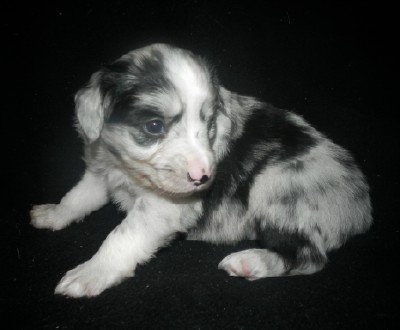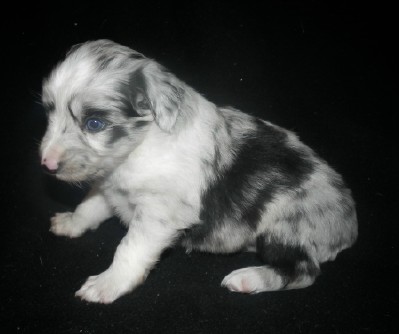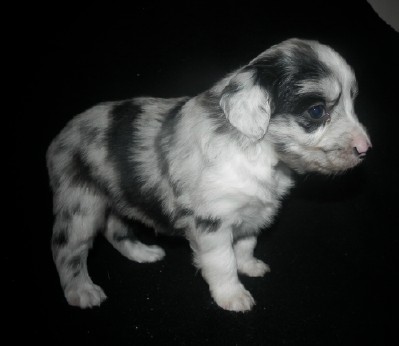 *****************
Blue Merle female sold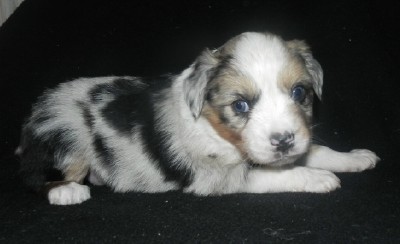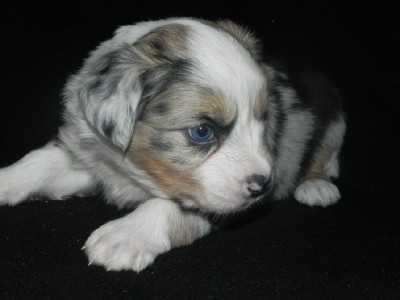 Shorty x Mickey Sept. 13th. 2011
8 puppies all sold,


3 Males black Tri's. they will all be Toy / Mini. sold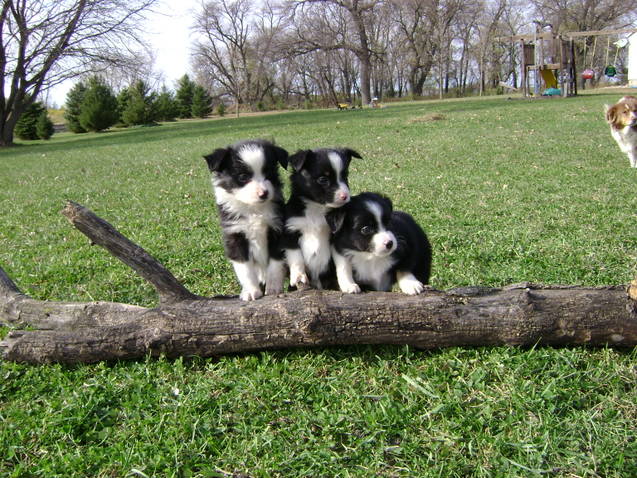 ******************************
Blue Merle Female Toy / Mini sold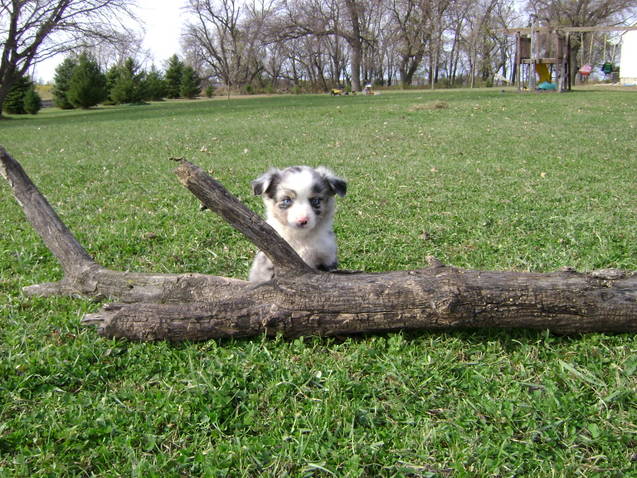 **************************
Blue Merle Female Toy / Mini sold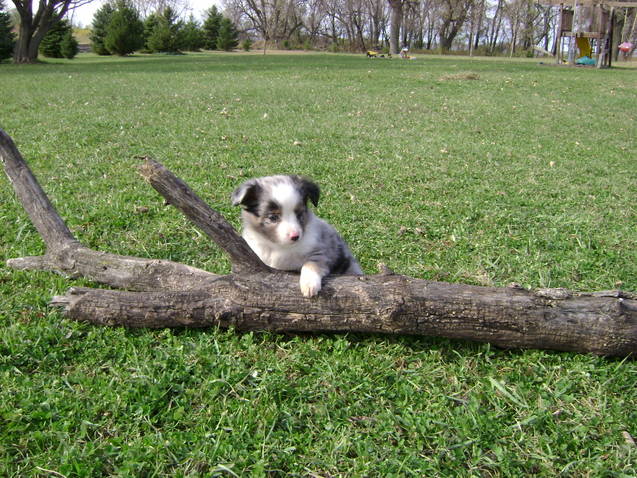 *****************************
Black Tri Female Toy / Mini sold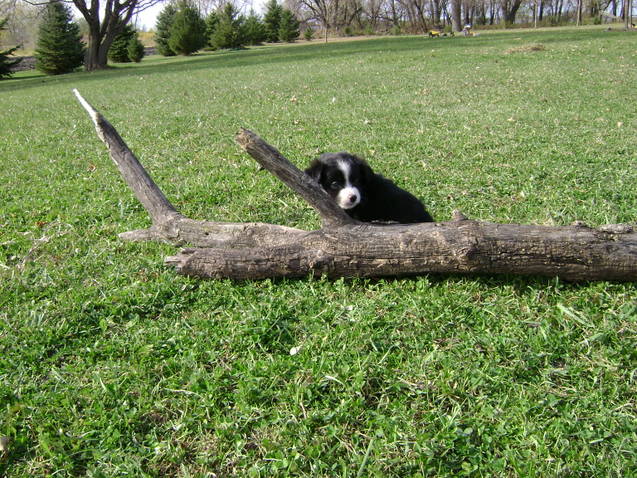 ************************
Black Tri Female Toy / Mini sold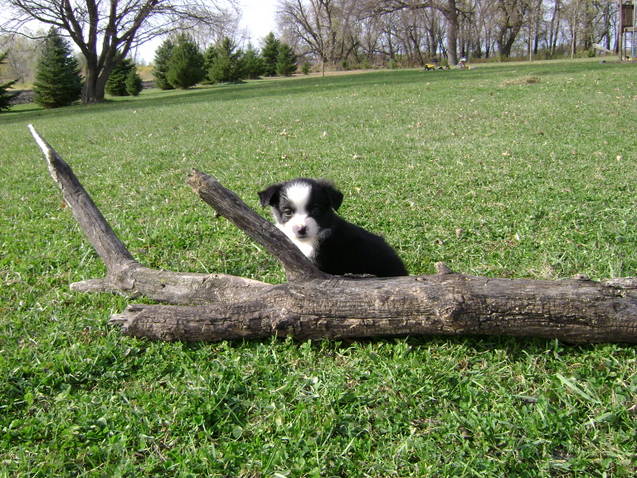 Bugsy & Mickey
Born Sept. 18 2010
2 males & 2 females ( All sold)
This is an exceptional litter of puppies. Large Toys - Small Mini's. These puppies have big flashy markings and are 100% Solid, friendly & healthy. Excellent quality, played with daily by small children, let out to run & play a few hours everyday and really follow us nicely. Get your deposit in today to secure one of these excellent puppies!



Male # B1 sold ( Black Tri Toy)
This is a really nice puppy! Very small and compact, beautiful head & ears, he is free to go in the barn or go outside, he is already a farm smart dog, he's socialized well with our other dogs, he goes to the barn when vehicles & tractors start up. Plays nice with small children. He's current on his vaccines, He is a great buy for someone looking for a good quality Mini / Toy Aussie out of the "baby" puppy stage.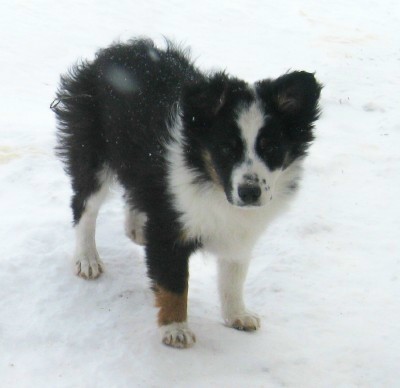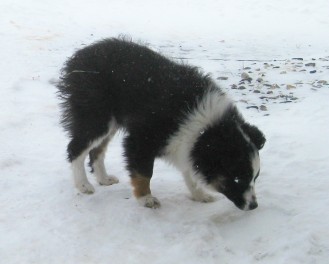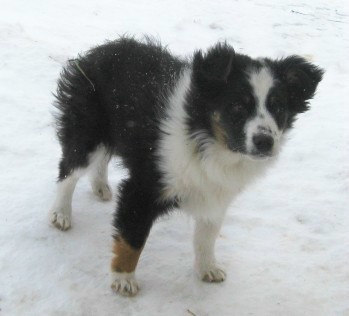 Pictures above updated 1 -11-11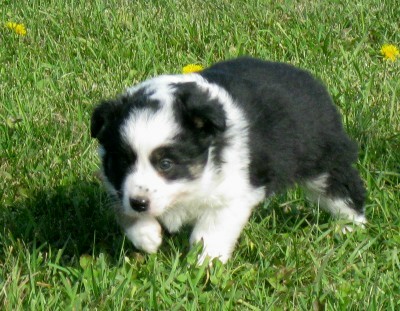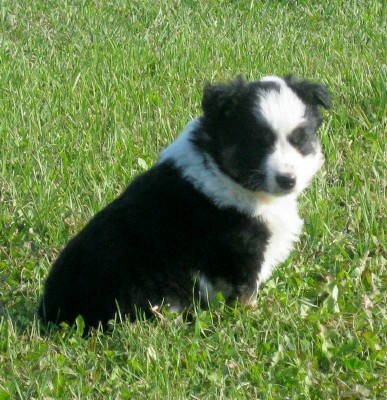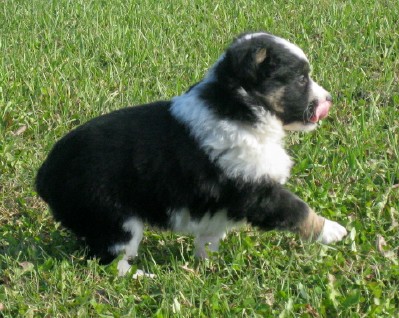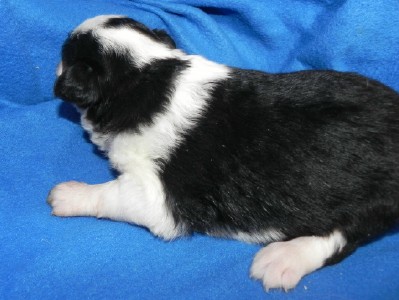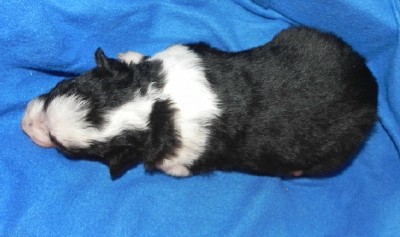 ~~~~~~~~~~~~~~~~~~~~~~~~~~~~~~~~~~~~~
Male # B2 sold ( Black Tri)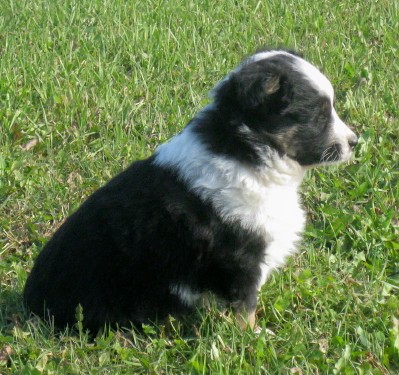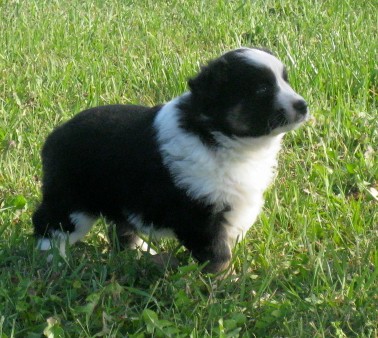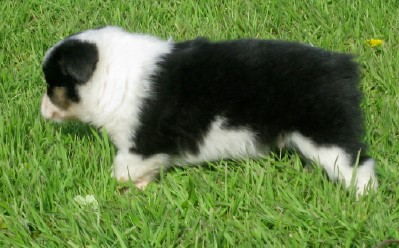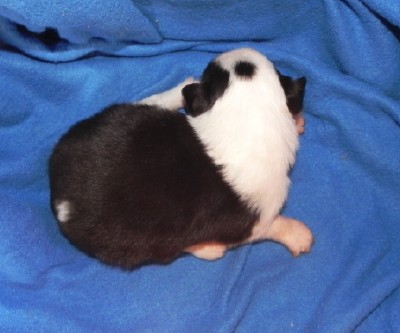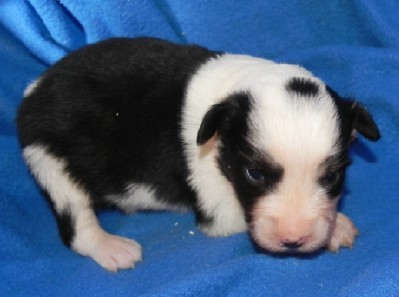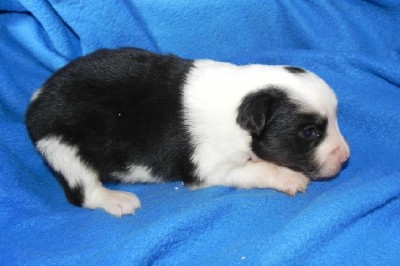 ~~~~~~~~~~~~~~~~~~~~~~~~~~~~~~~~~~~~
Female # B1sold Mary B. IA. ( Blue Merle)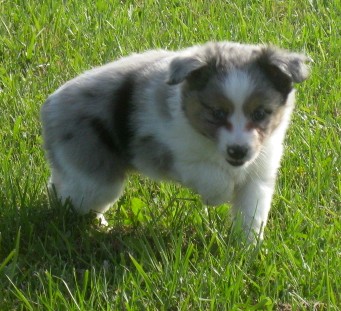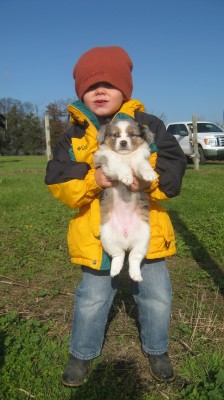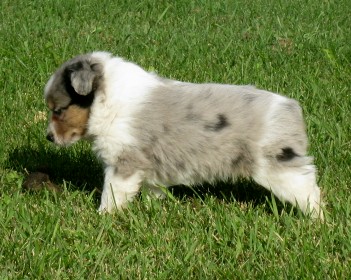 Pictures below @ 14 days.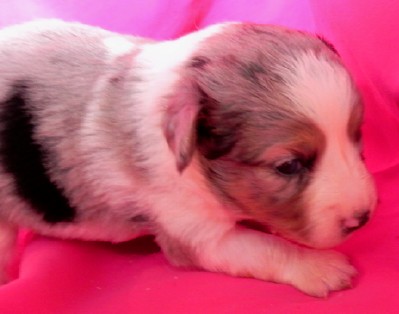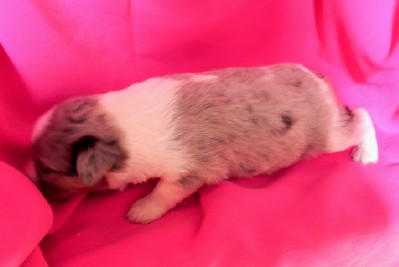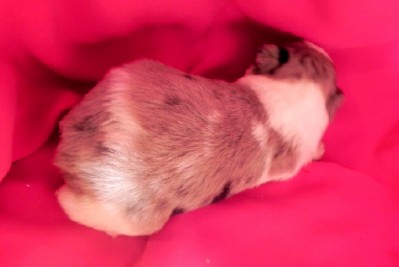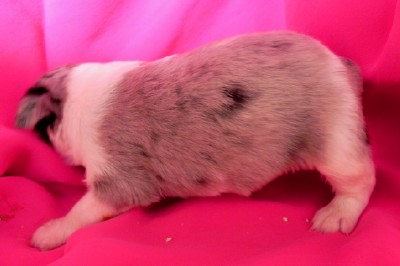 ~~~~~~~~~~~~~~~~~~~~~~~~~~~~~~~~~~~~~~~~~~~~
Female # B2 sold ( Black Tri)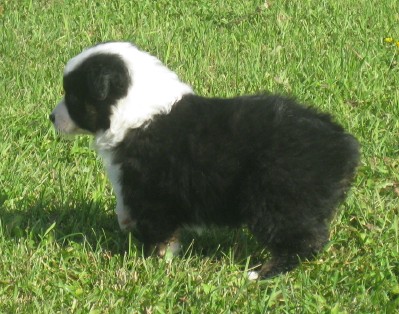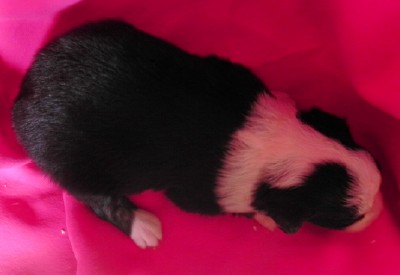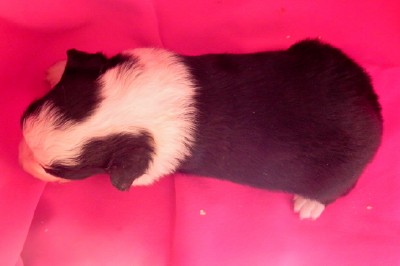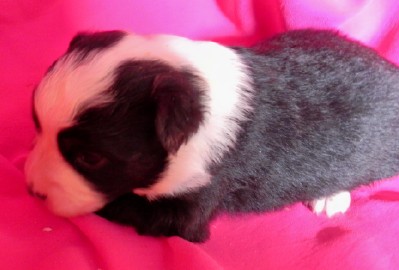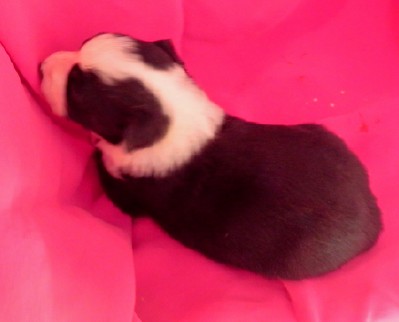 Puppies @ play below.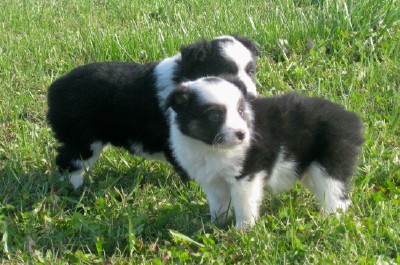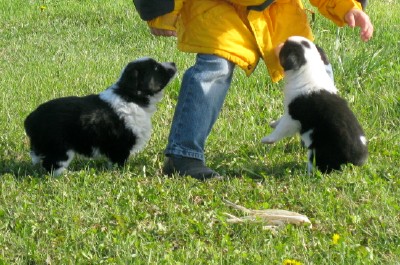 Zoey & Mickey
born July 4th 2010
1 female & 3 males.
1 Black Tri Male for sale, ready now



Female Merle sold Rebecca & Brian, MT.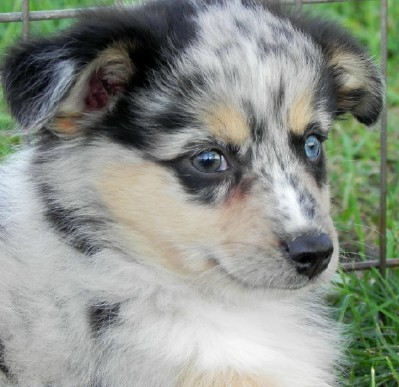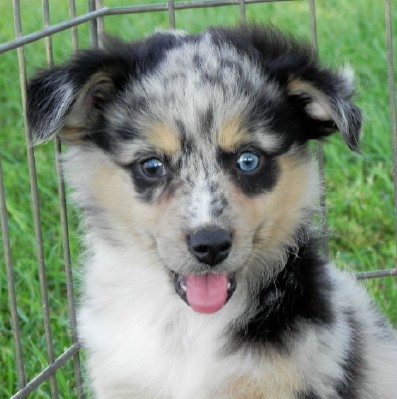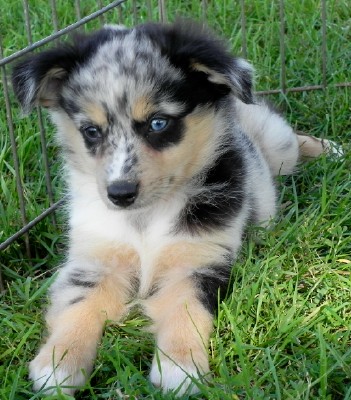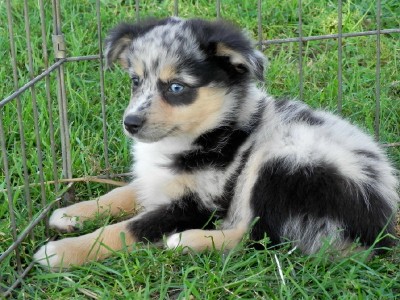 Male Merle sold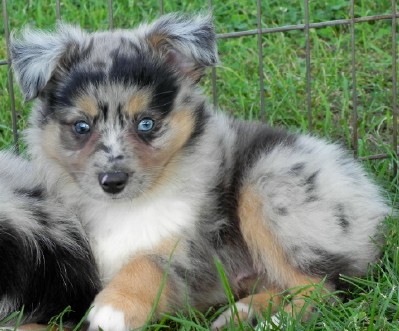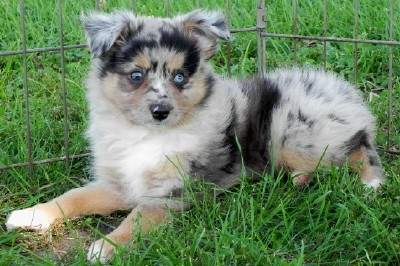 Both puppies below, having 35mph winds their ears were being lifted once in awhile. They both have nice ear sets.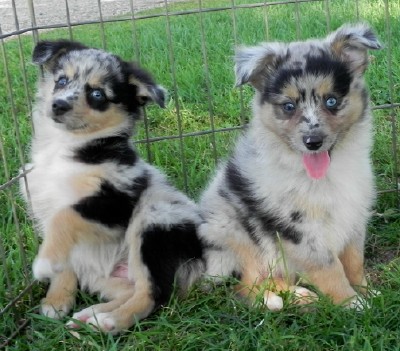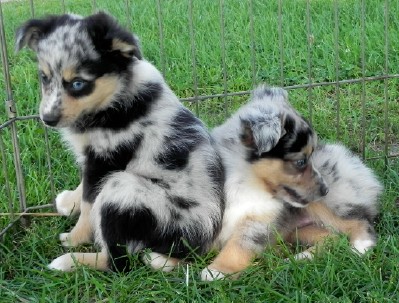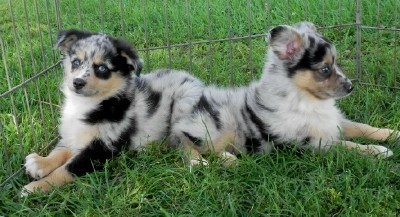 Black tri male sold Oaklahoma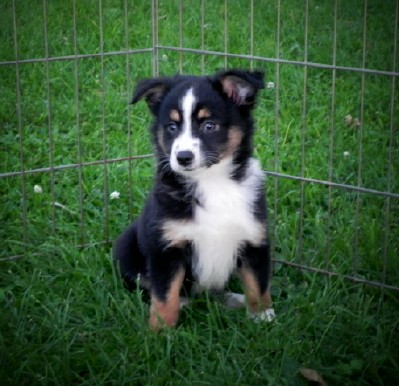 Black Tri male sold Kendra, MN.
This little puppy fast became a little buddy for my 2 year old grandson.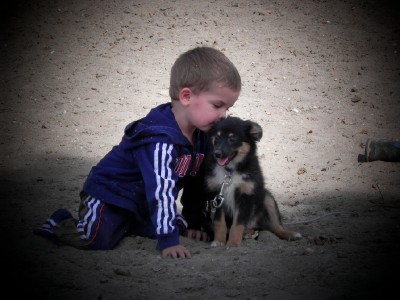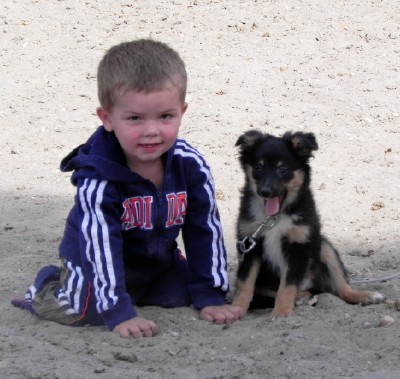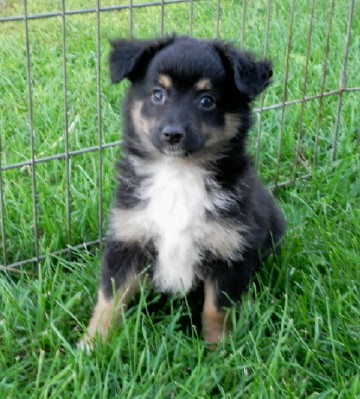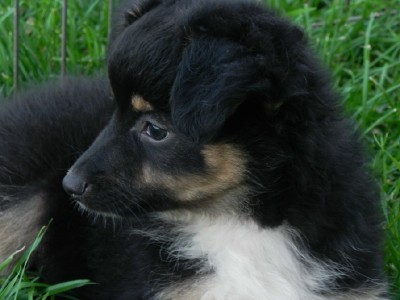 All Puppies below are sold.



Shorty & Mickey had puppies 3/1/10

Red Tri Male For Sale
Super Tiny!!!
Kid tested Mother approved!
Sold Amy & Dave, MN.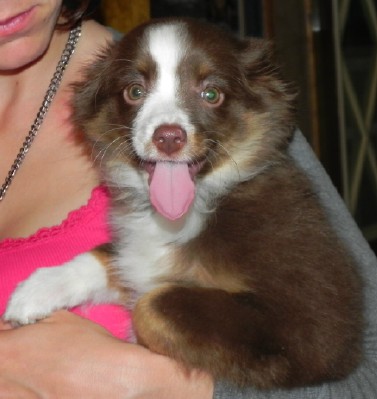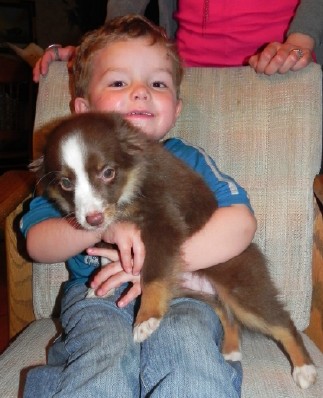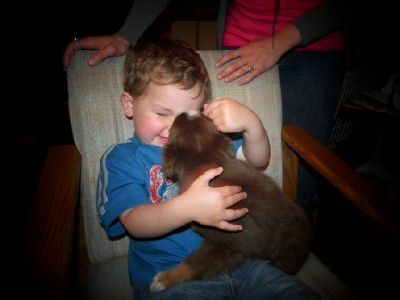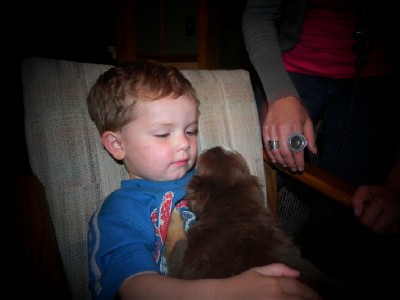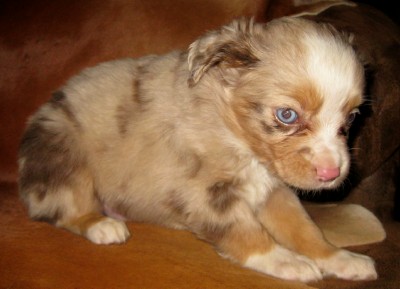 Male # 1 sold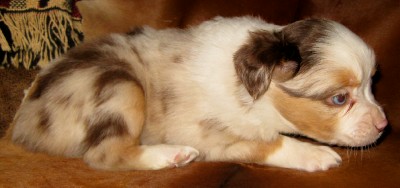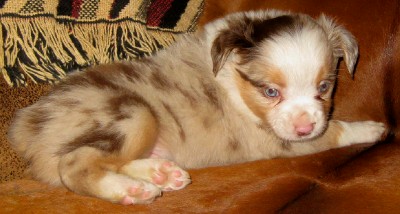 Male # 2 sold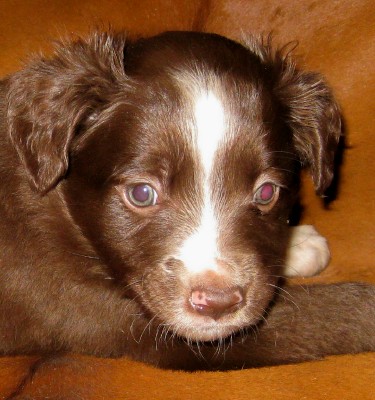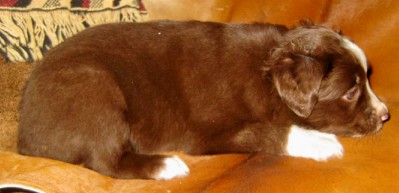 Male # 3 sold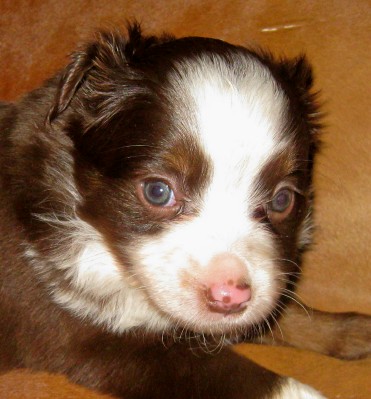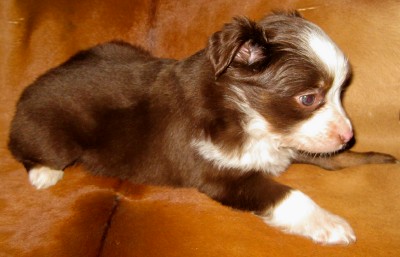 Female Red Tri # 1 sold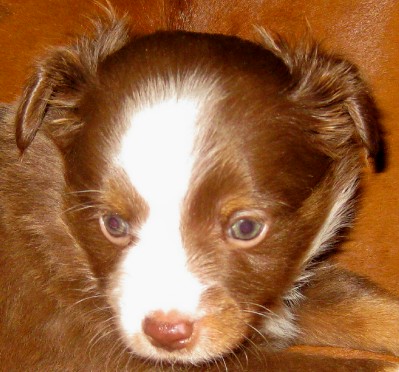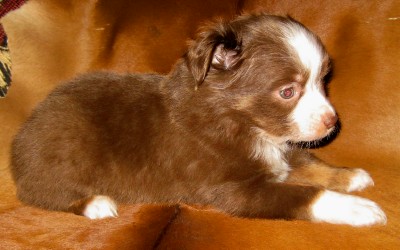 Male Red Tri # 2 $600.00





Zoey & Kip
11/27/09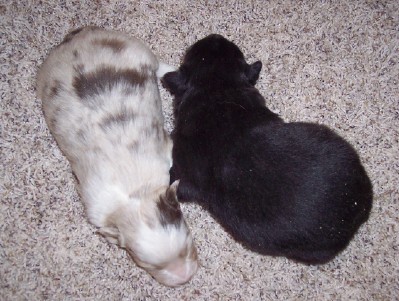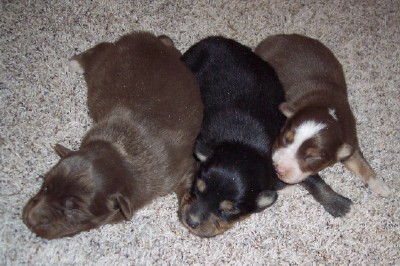 Red Merle M Black Tri M *** 2 Red Tri F & 1 black tri F

Red Tri Female (Small)
"Zana" Sold Lori K. MN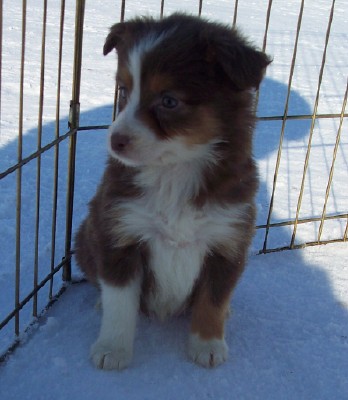 ***********************
Black Tri F
sold
Spiting imagine of her mother.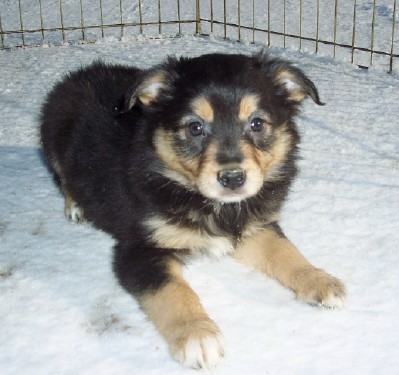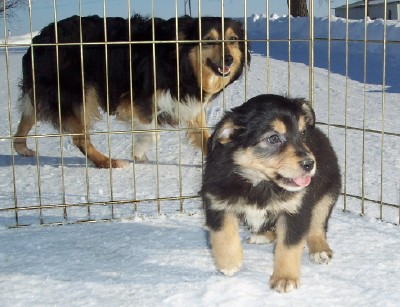 **********************
Black Tri Male
sold
Gorgeous Coat!
Super cute face, Big Teddy Bear!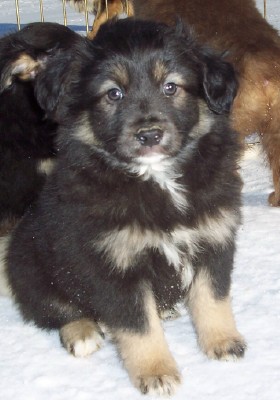 **********************
Red Merle Male
sold
On the smaller side
2 Blue marble eyes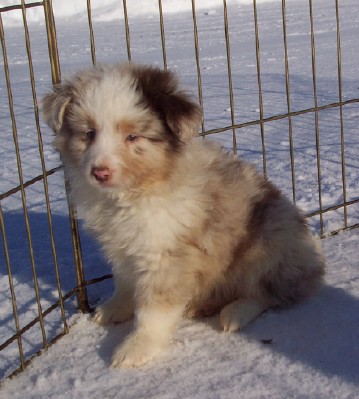 This is an absolute beautiful litter!!!
Happy! Healthy! And Smart!
Mom is a Mini and
Dad is a Very small Toy.
2 Puppies available in this litter as of 1/19/2010
Bugsy & Mickey
Nov. 11th 2009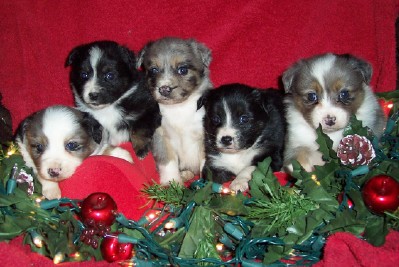 Ma * Fe * Ma * Fe * Ma
*****************************
Male # SOLD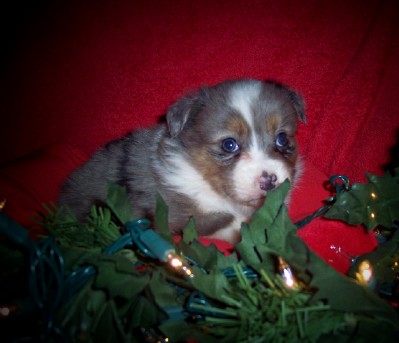 ****************************
Male # B2 sold Cheaz, MN.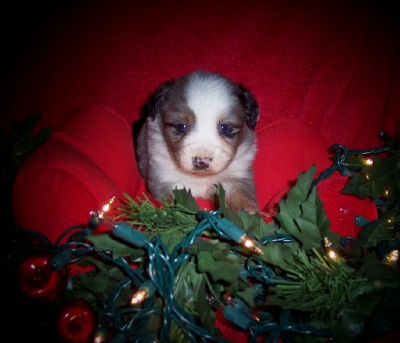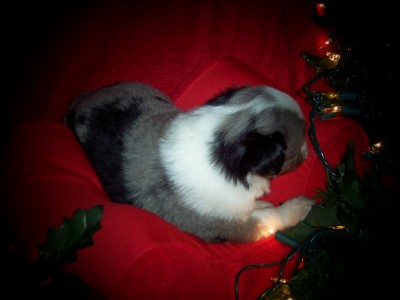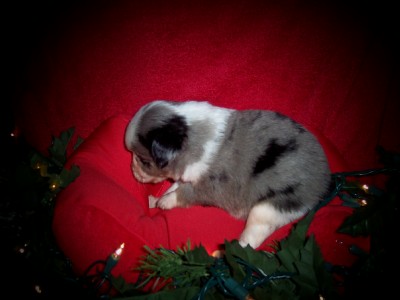 **************************
Male # B3 For Sold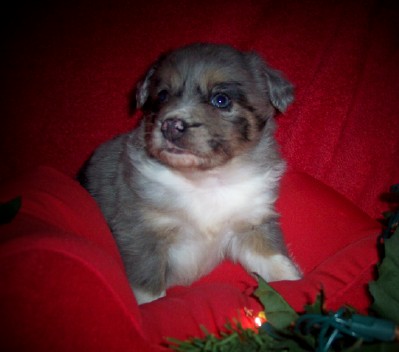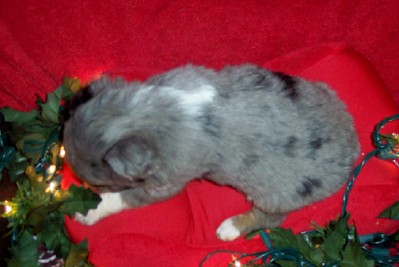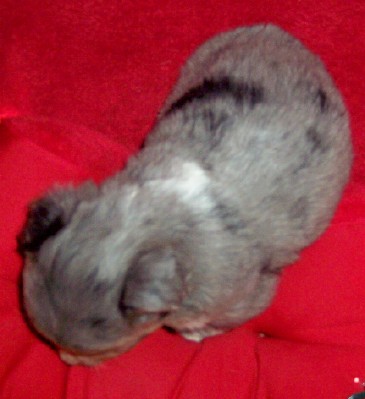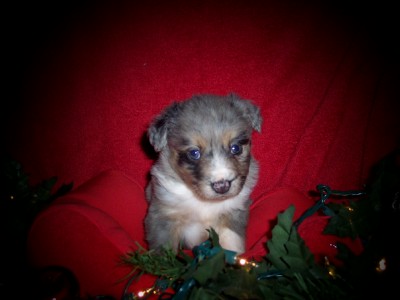 *******************************
Female # B1 For SOLD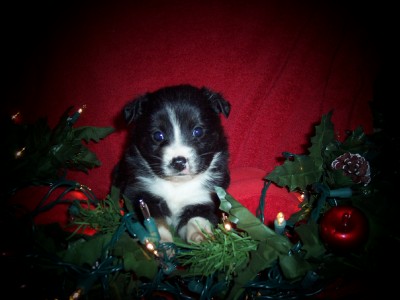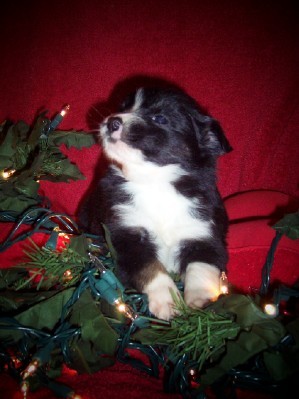 **********************************
Female # B2 SOLD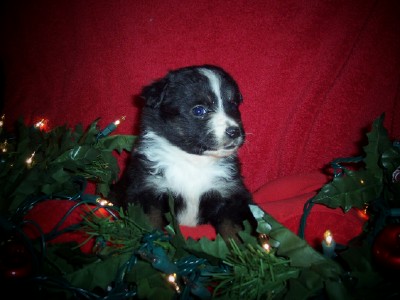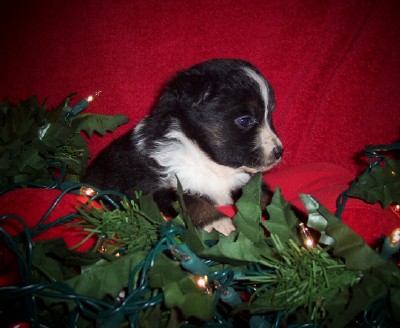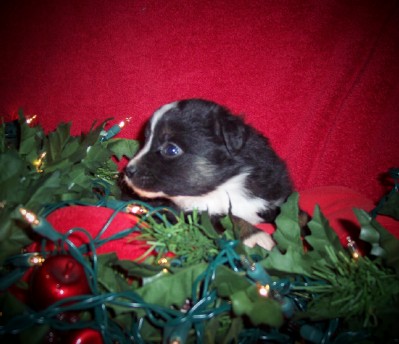 This is an absolute beautiful litter!!!
Happy! Healthy! And Smart!


1 Toy red merle male puppy available.
The toy puppy has marbled gold, green & blue eyes.
"Spencer" sold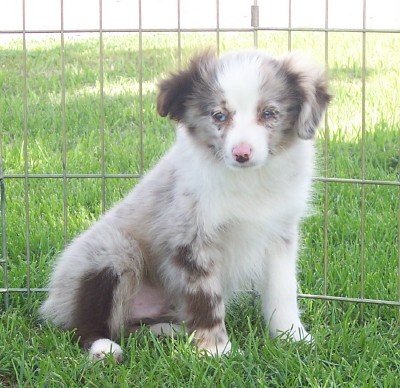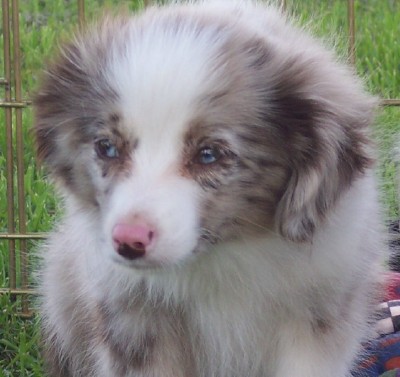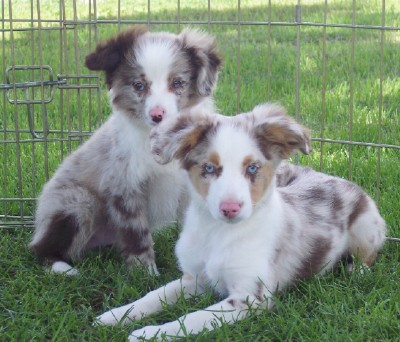 1 Mini red merle available.
2 Of the most stunning ocean blue eyes you've ever seen. Full white collar.
"Haass" sold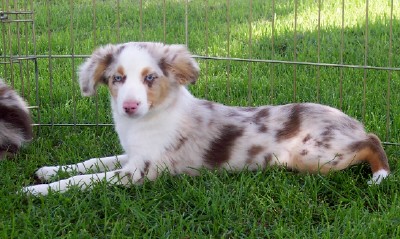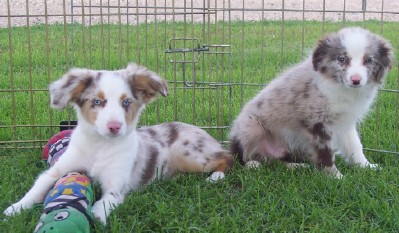 These are both absolutely gorgeous puppies.
*************************************

Zoey & Kip 4/1/09
4 Mini Males all Merles. All FOR SALE
Male 1 "Harris" Sold Melissa MN.

This is going to be a gorgeous boy!!!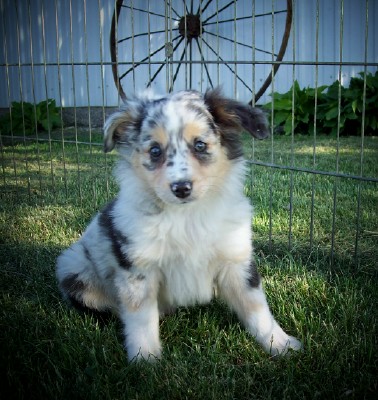 ***************************************
Male # 2 "Cinch" sold Middie, MN.
"Toy" will be very small,
This puppy has SMART written all over him!!!!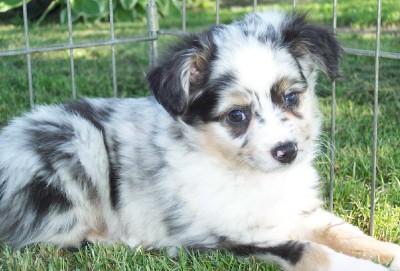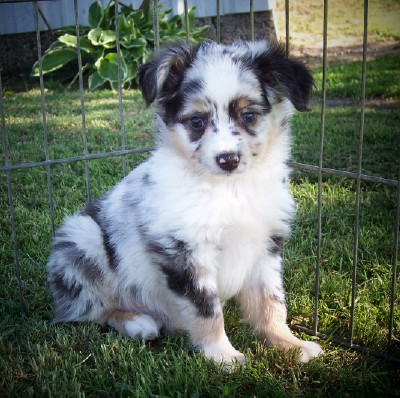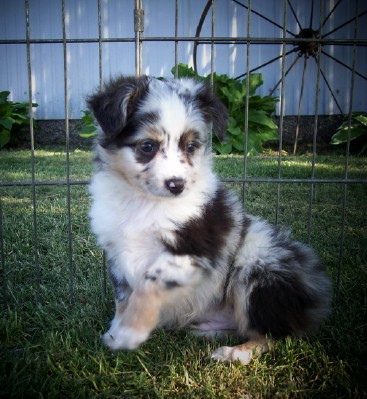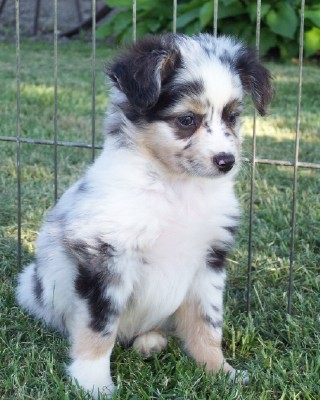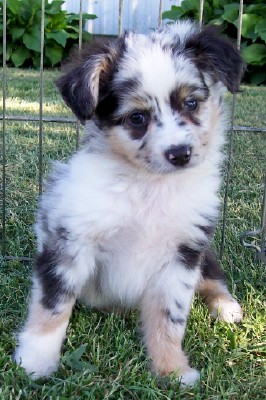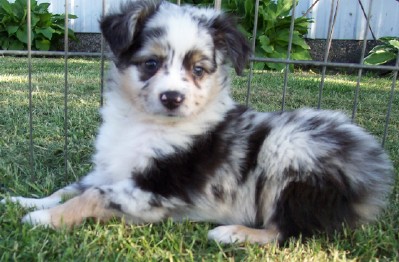 **********************************
Male # 3 "La -kia" Sold Melissa, MN
This puppy is passive and on the quiet side,
he has beautiful coppering.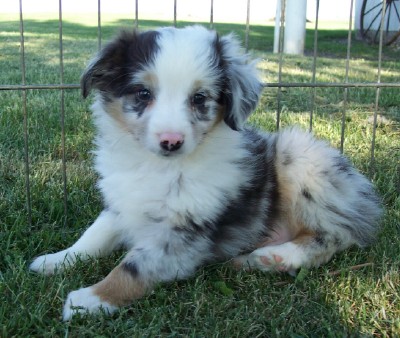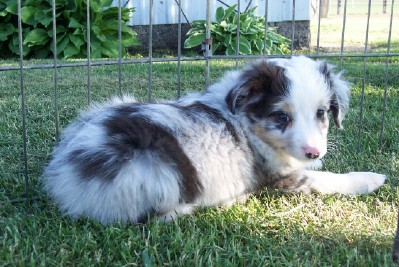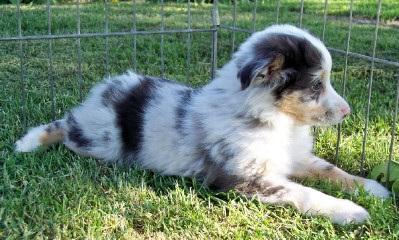 *************************************
Male # 4 Red " Razor" SOLD Maureen MN.
This is the largest puppy in the litter
he has deep liver red coloring, blue/green marble eyes,
large bone and a nice square sturdy body.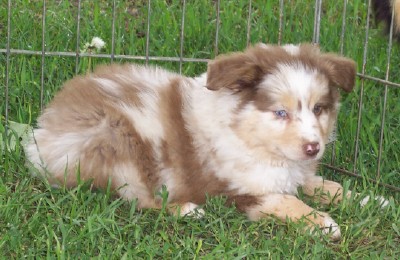 Zoey & Kip 8/23/08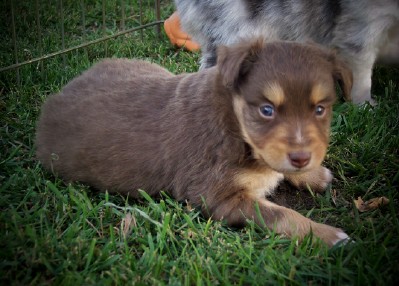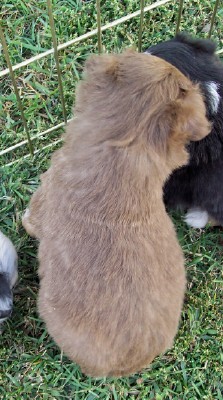 Red Tri Male Sold Nancy Jo, MN.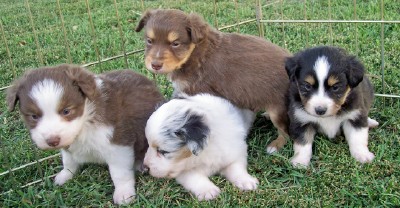 Zoey litter. Should mature @ 14 inches.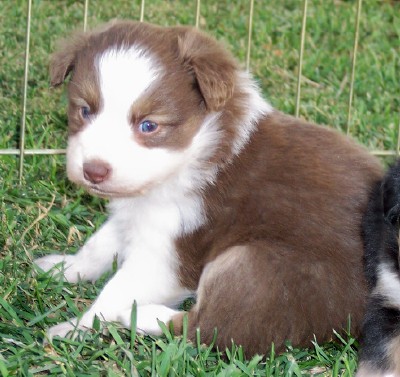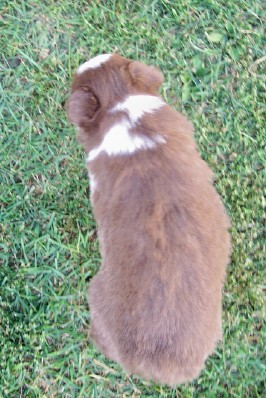 Red Tri female Sold DeAnn TX.
~~~~~~~~~~~~~~~~~~~~~~~~~~~~~~~~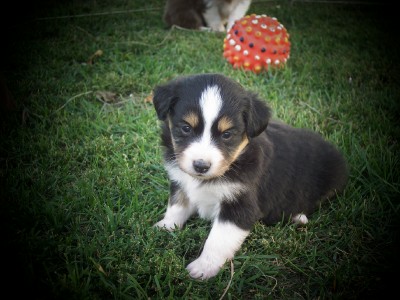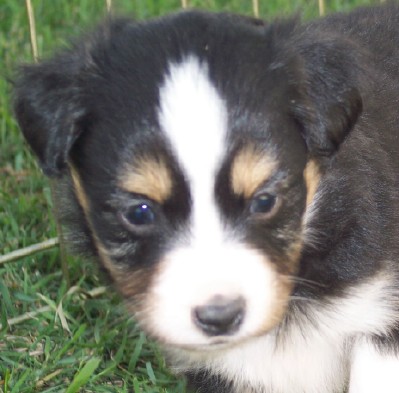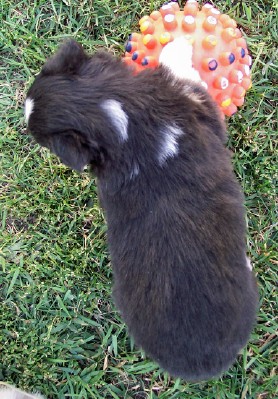 Black Tri Female for sale (Toy)
Sold Brian, MN.
~~~~~~~~~~~~~~~~~~~~~~~~~~~~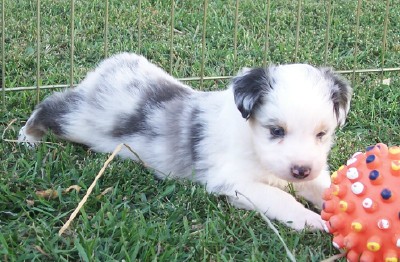 Blue Merle Male for sale
2 Blue eyes. Sold Gary W. MN
~~~~~~~~~~~~~~~~~~~~~~~~~~

Zoey x Kip whelped 2/10/08
2 Red Merle Males/ 1 Red Merle Male / 1 Red tri Male
1 Blue Merle Female
All puppies sold.
Red Tri Sold Erin, MN.
Blue Merle Male sold Tanya, MN.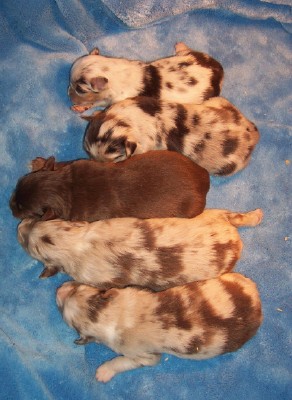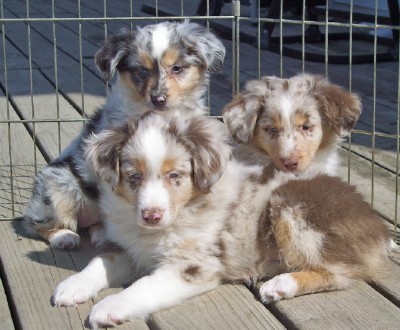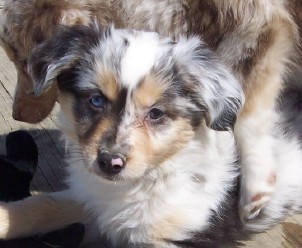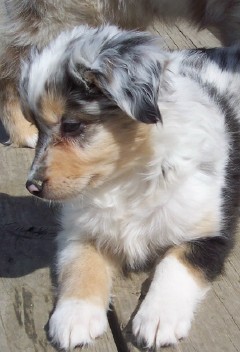 Blue Merle Female
(Sold Kendra, MN.)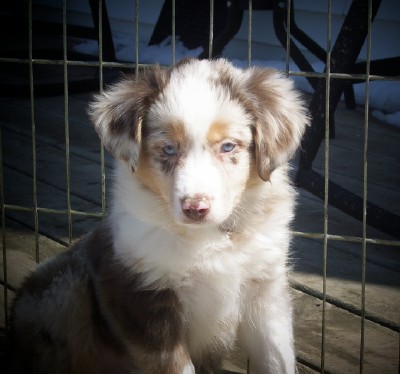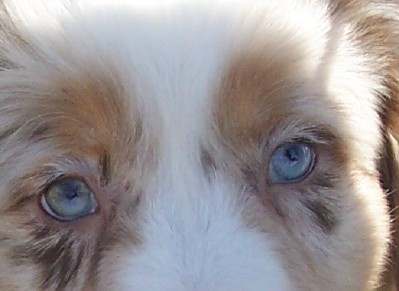 Red Merle Male # 1
sold Jessie S. MN.
~~~~~~~~~~~~~~~~~~~~~~~~~~~~~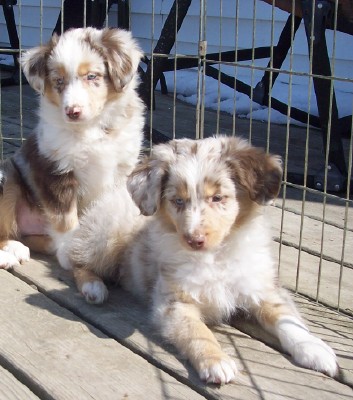 Red Merle Male # 2
sold Daniel Calif.
~~~~~~~~~~~~~~~~~~~~~~~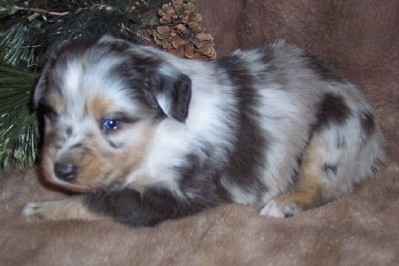 Blue Merle Male sold Tanya, MN.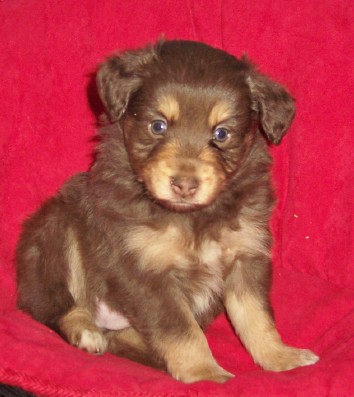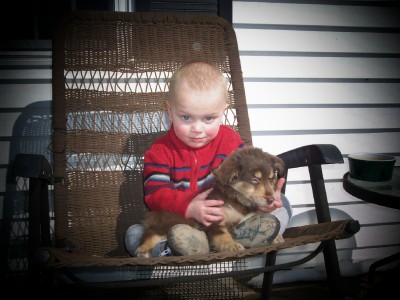 Red Tri Male sold Erin MN.
"Willy" going home to play & be buddies with Gabe.



Pictures below were taken 3-21-08 pictured are Kip & Amber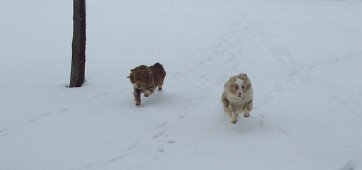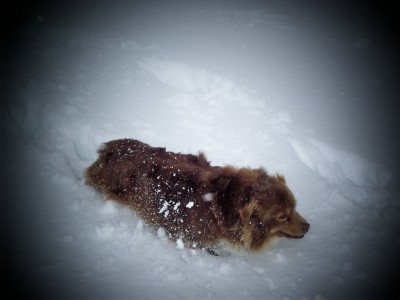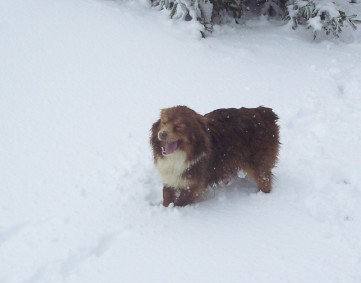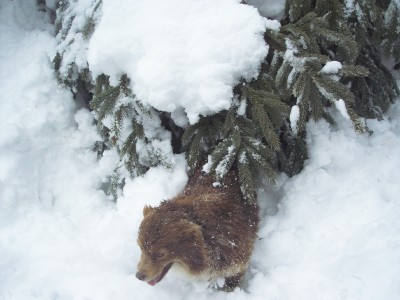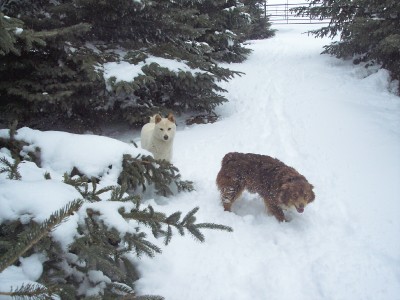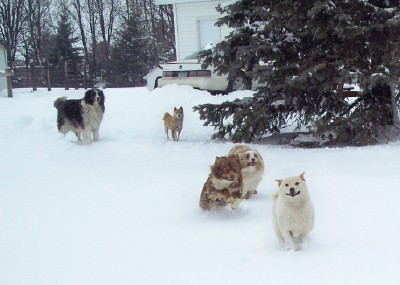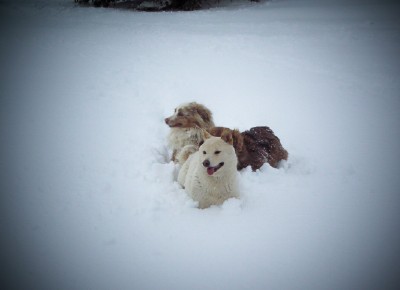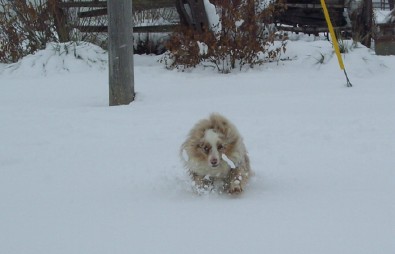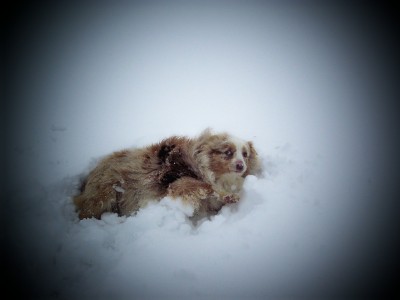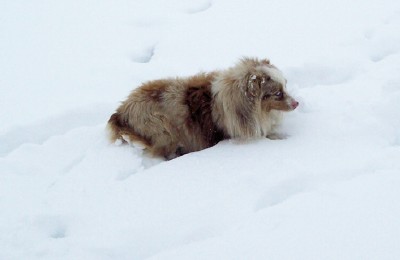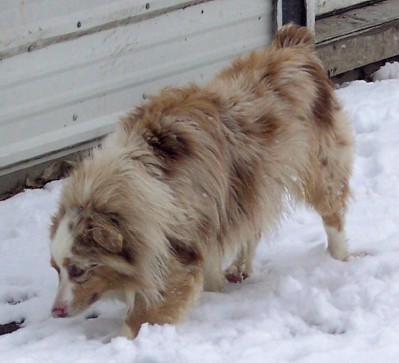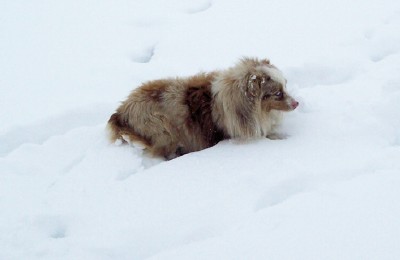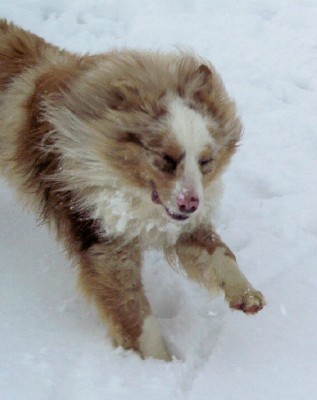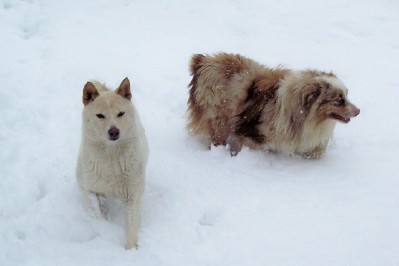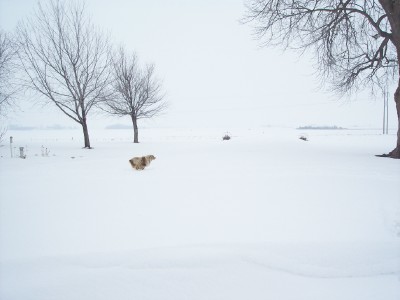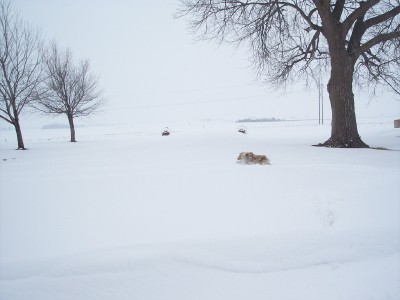 **********************
Amber & Kip Had puppies 8/24/07 All Puppies sold.
Red Merle Male "Spur"
Toy / Mini
Sold Kathy Ca.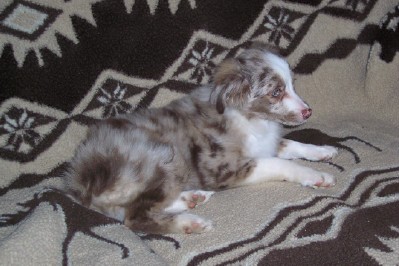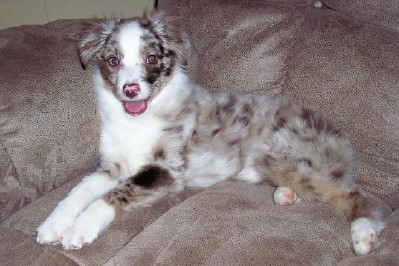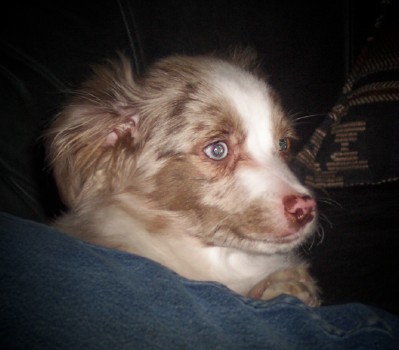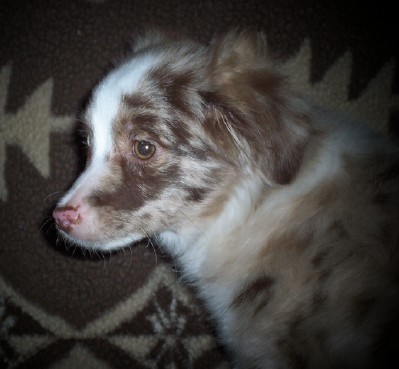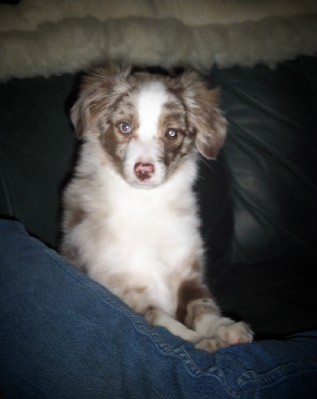 ***********************
Red Tri Male " Harley" Mini
Sold Ed MN.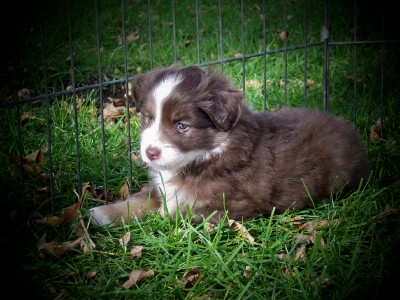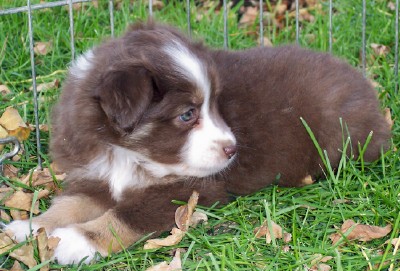 **************************************
Red Merle Male # 2 "Simon" Mini with doll face.
(sold, Katie & Cody, MN)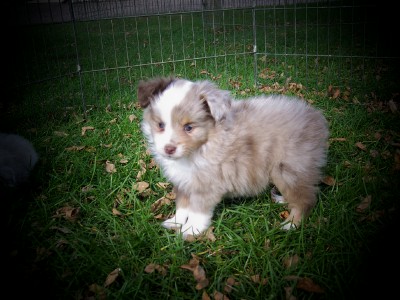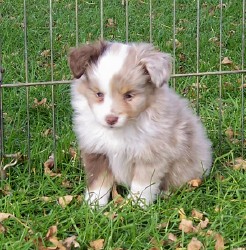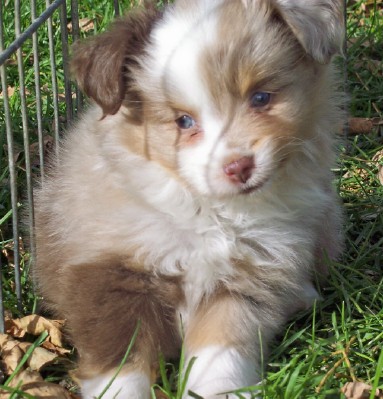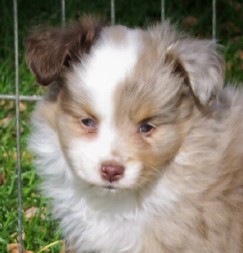 Amber's litter playing pictured below.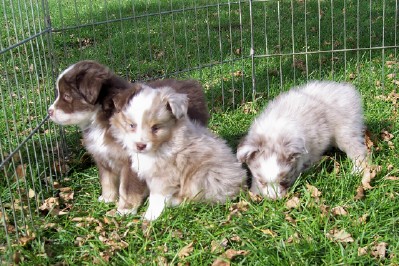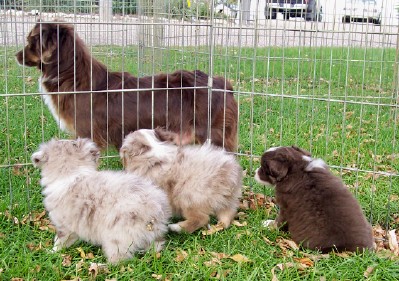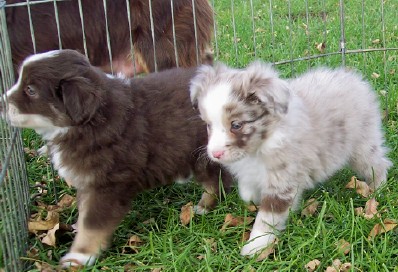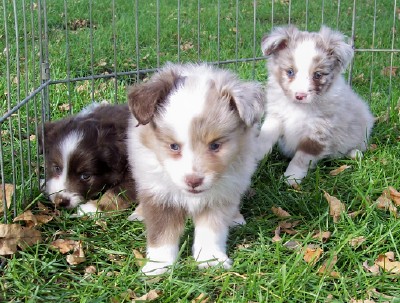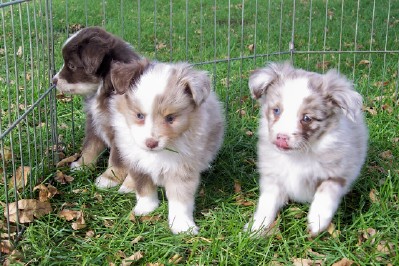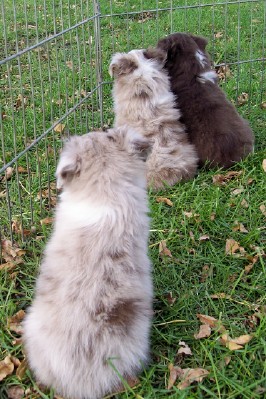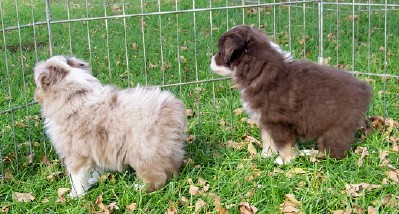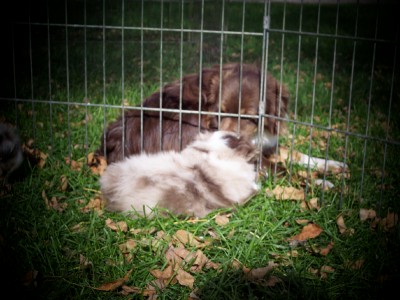 Amber still likes to go lay by her babies playpen.




sold Christine H MN.
"Samson"
Black tri male 4 months old.
We are working on house breaking and basic commands.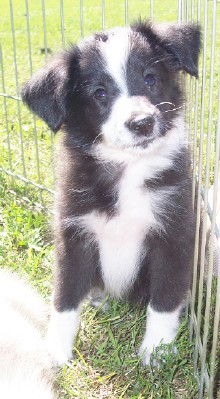 Bugsy x Kip 6/28/07 (All pups sold)
2 merles / 4 tri's Males & Females.
All red merles & Red tri's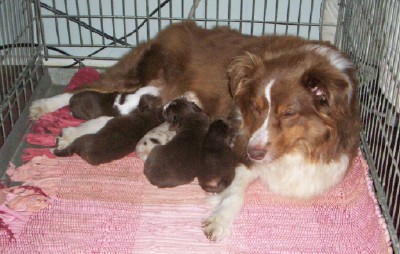 All puppies have found new family homes.



Amber & Honda Puppy
Black Tri Male # 4 ( very small) SOLD Diane, MN
*****************************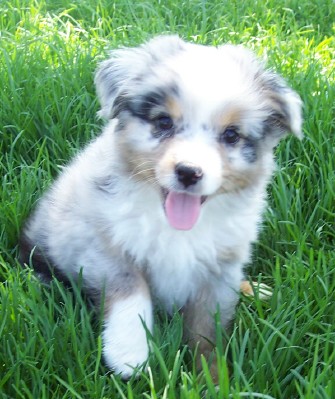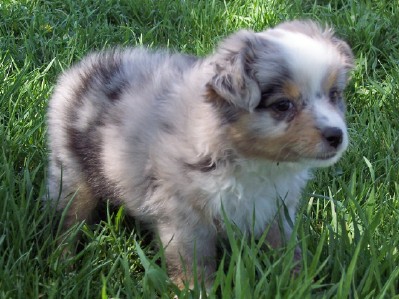 "Harris"
Blue Merle male ( Tiny Toy) Sold, Laura MN.
Pictured with 3 lb Tucker the Maltese
Very Sweet & playful.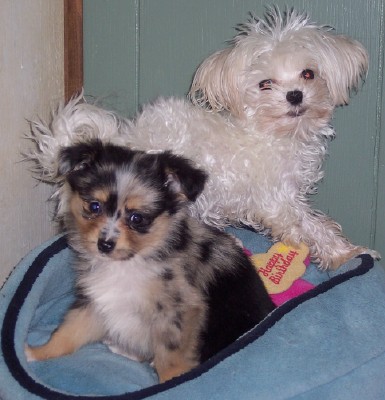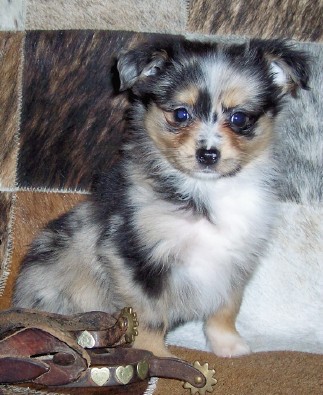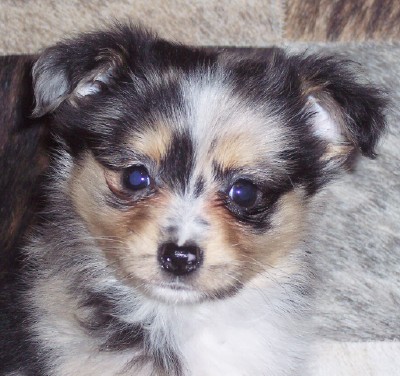 .
Muffin x Kip Oct. 2006
Red Merle male 2 blue eyes. sold.
Thompson family in MN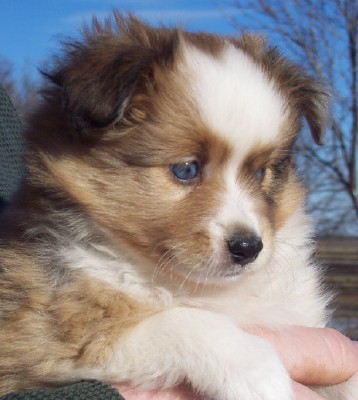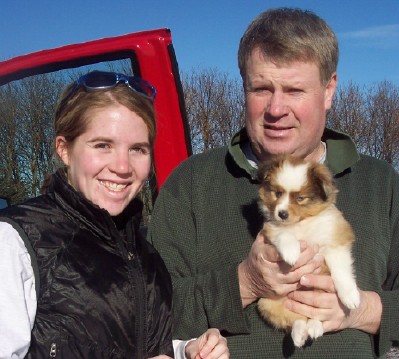 Bugsy & Honda had puppies on May 26th 2006
All puppies sold.
Male Blue Merle ( sold Mike C, CO. )
The smallest in the litter happy, healthy & playful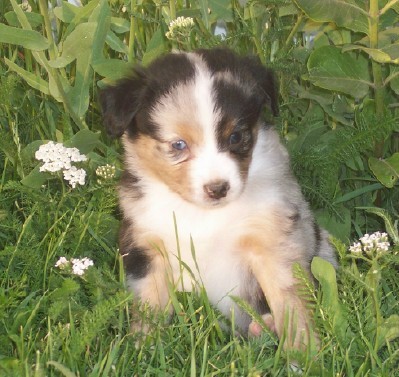 Blue merle male w/ mom 7/17/06 sold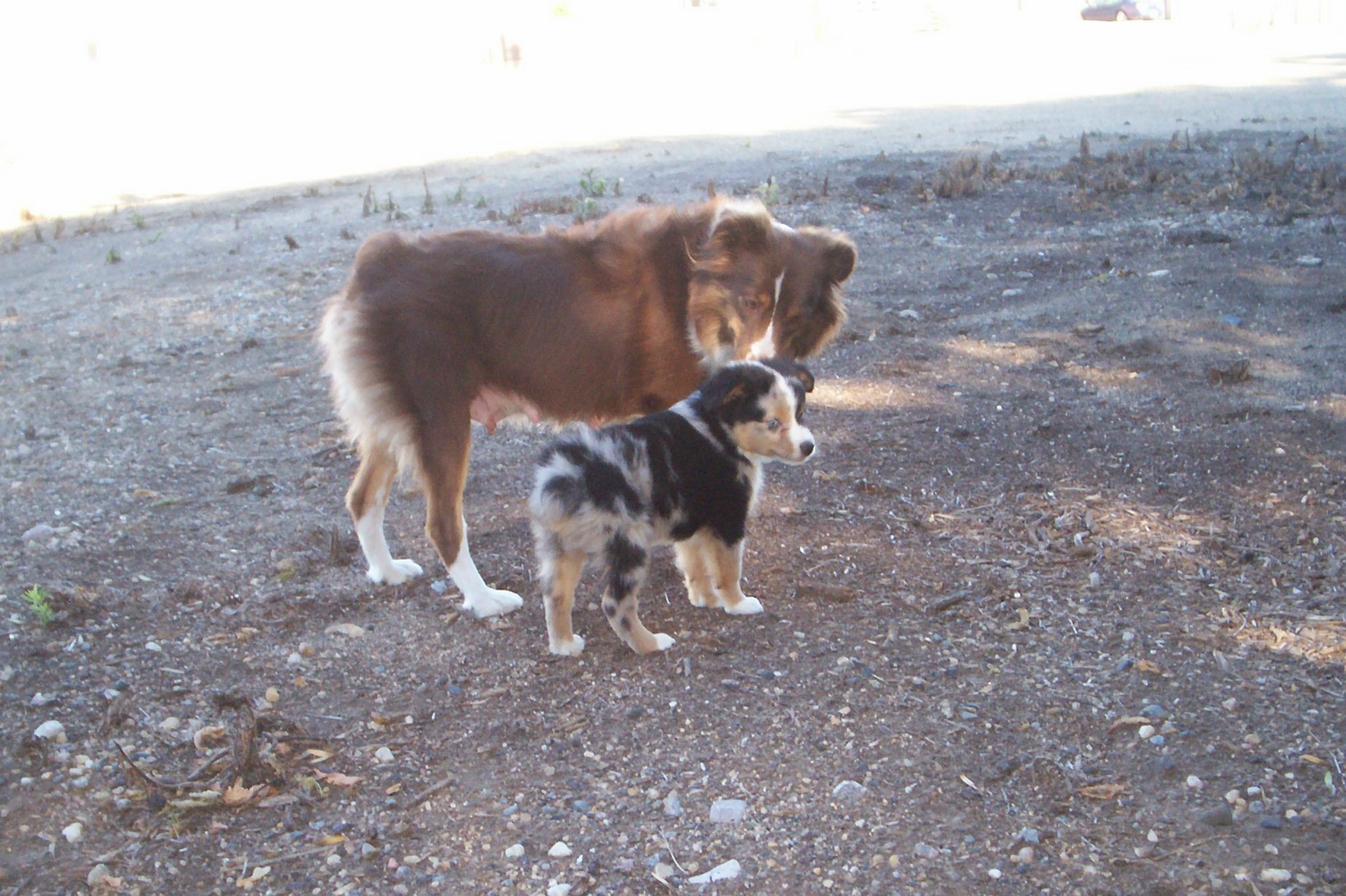 Blue male updated pictures 7/17/06 sold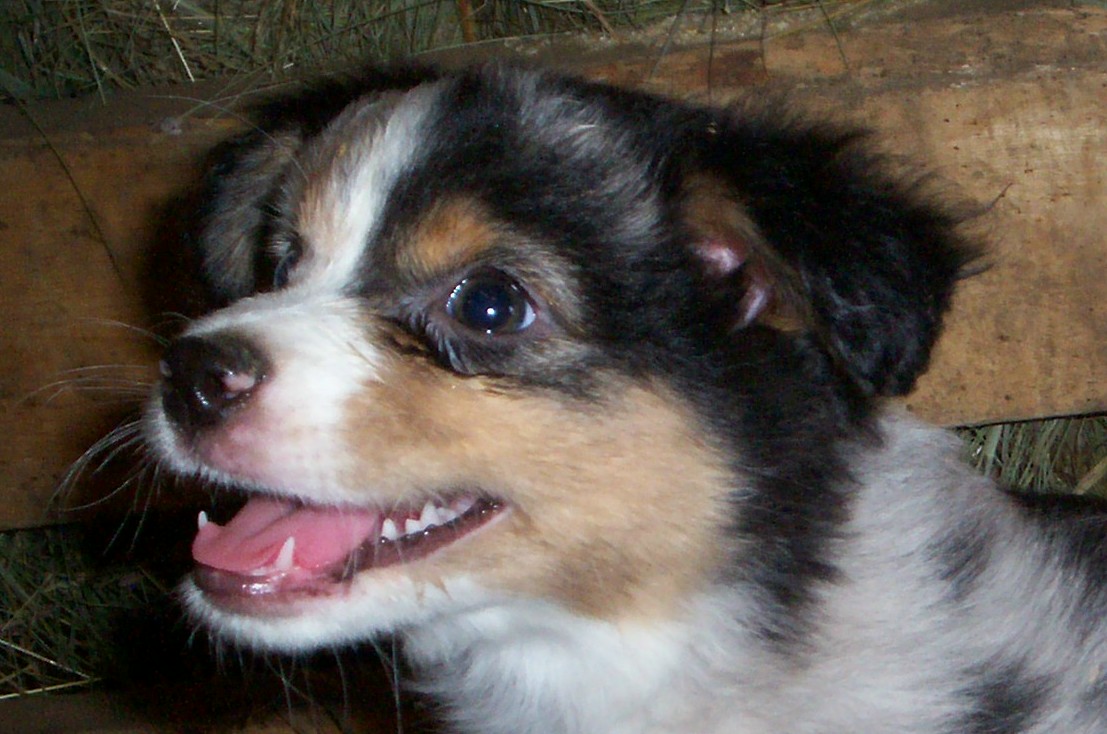 *****************************************
Female Blue Merle ( Sold Denise & Ray Kinder, VA)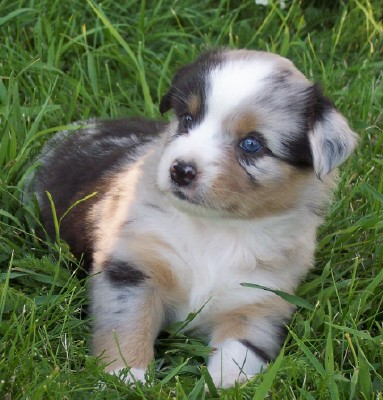 *************************************
Male Black Tri Full Collar (Sold, Dave & Amy P. MN) "Happy Birthday Amy"
coppering calm & snuggly, He's like a little bear!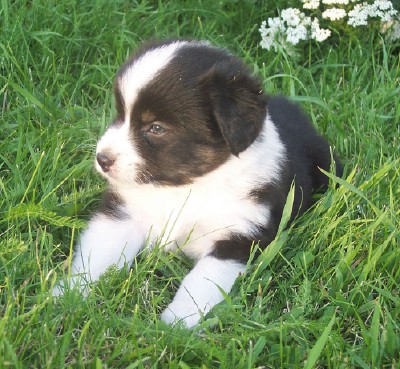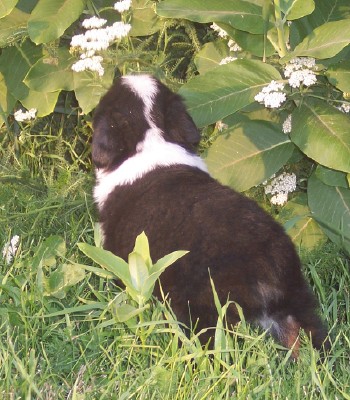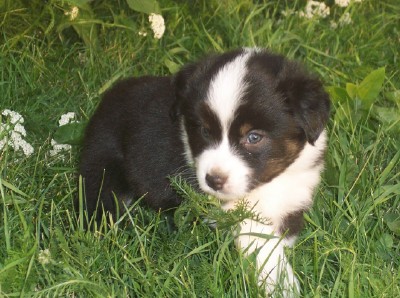 *******************************************
Male Black Tri ( Sold, Chad Iowa) coppering. Very calm personality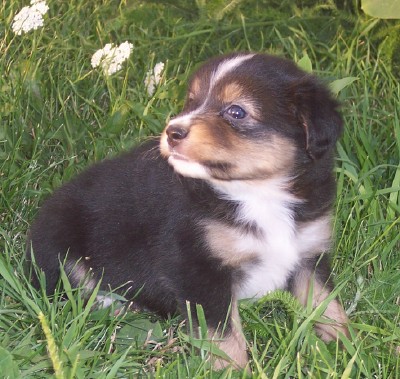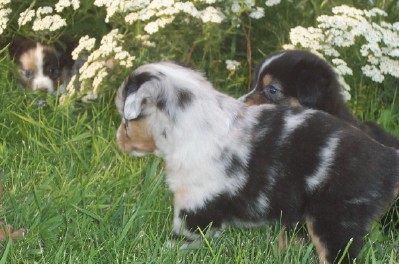 3 of the puppies playing "Hide & Seek" Where could that brother be???
********************************************
Black Tri Female ( Sold Becky, MN) Real laid back puppy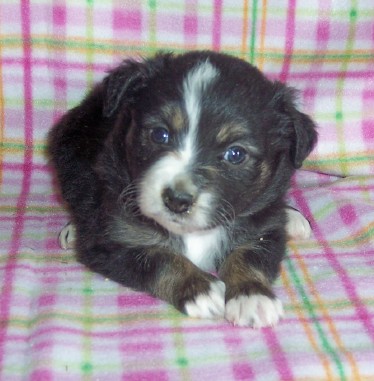 May 4th 2006 D.O.B
Muffin & Honda had 2 pretty girls, Both puppies sold.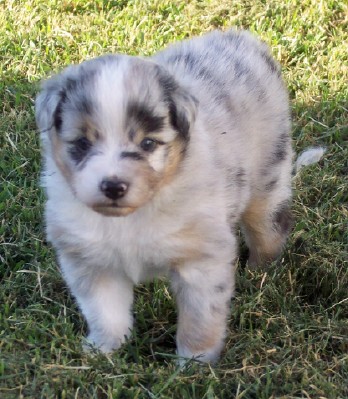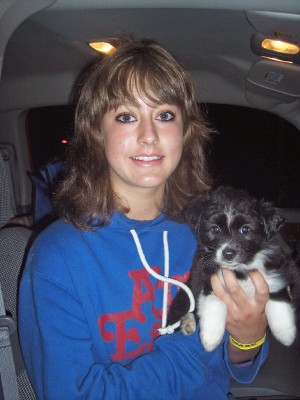 Blue Merle Female ( sold, Wade G. MN) Black Tri Female ( sold, Lauren Stillwater MN.)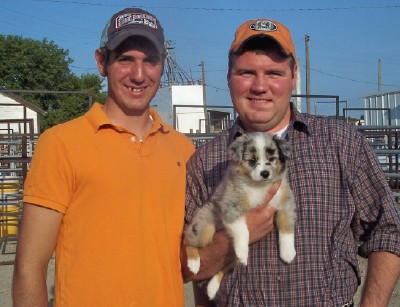 Grinager Boys with their new puppy "Concho".
You'll probably see her @ a few rodeo's. This is a Big rodeo family!
Update: Concho is already herding geese & ducks....At the age of 10 weeks



"Chassis Brown"
Toy Red tri male sold to Kelly, Vicki, Journey & Parker, ND
This puppy will have a great time with his new family,
They have a standard marked the same as this puppy.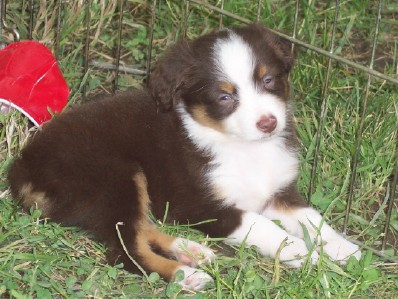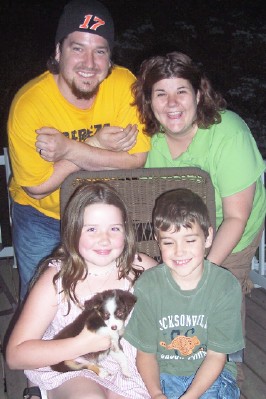 " Roper" 4/28/06
Toy Black Tri Male Sold Melanie & Paul, Monticello MN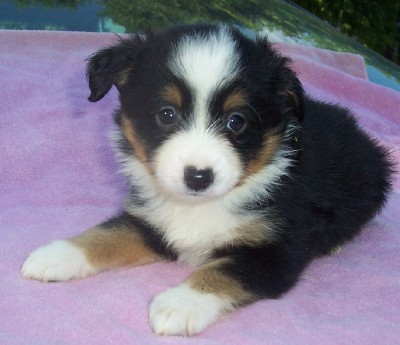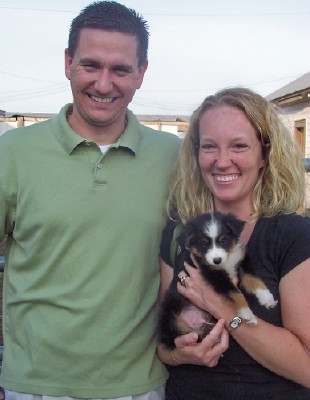 Adults pictured below.
"Honda"
Blue merle toy male 12 inches & 15 lbs. Full collar ,beautiful copper markings real thick coat, a lot of bone and lots of flash!!
Honda has 1 blue eye & 1 brown eye, he's got a thick lush coat, square body & looks like a full sized Aussie but ...downsized! He's a very alert dog, has lots of expression.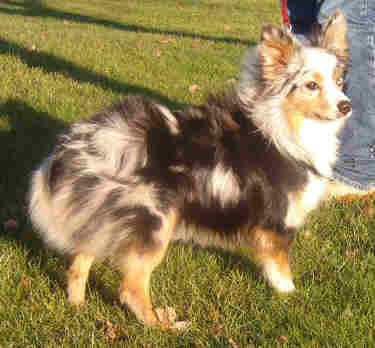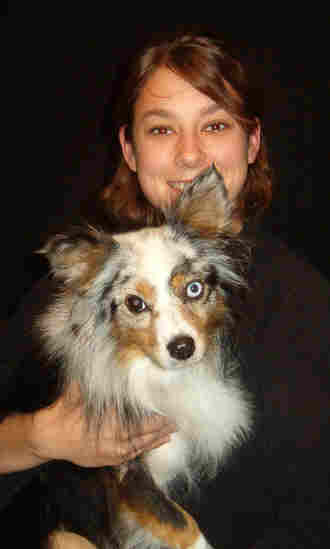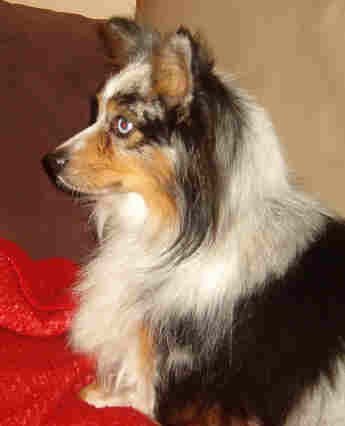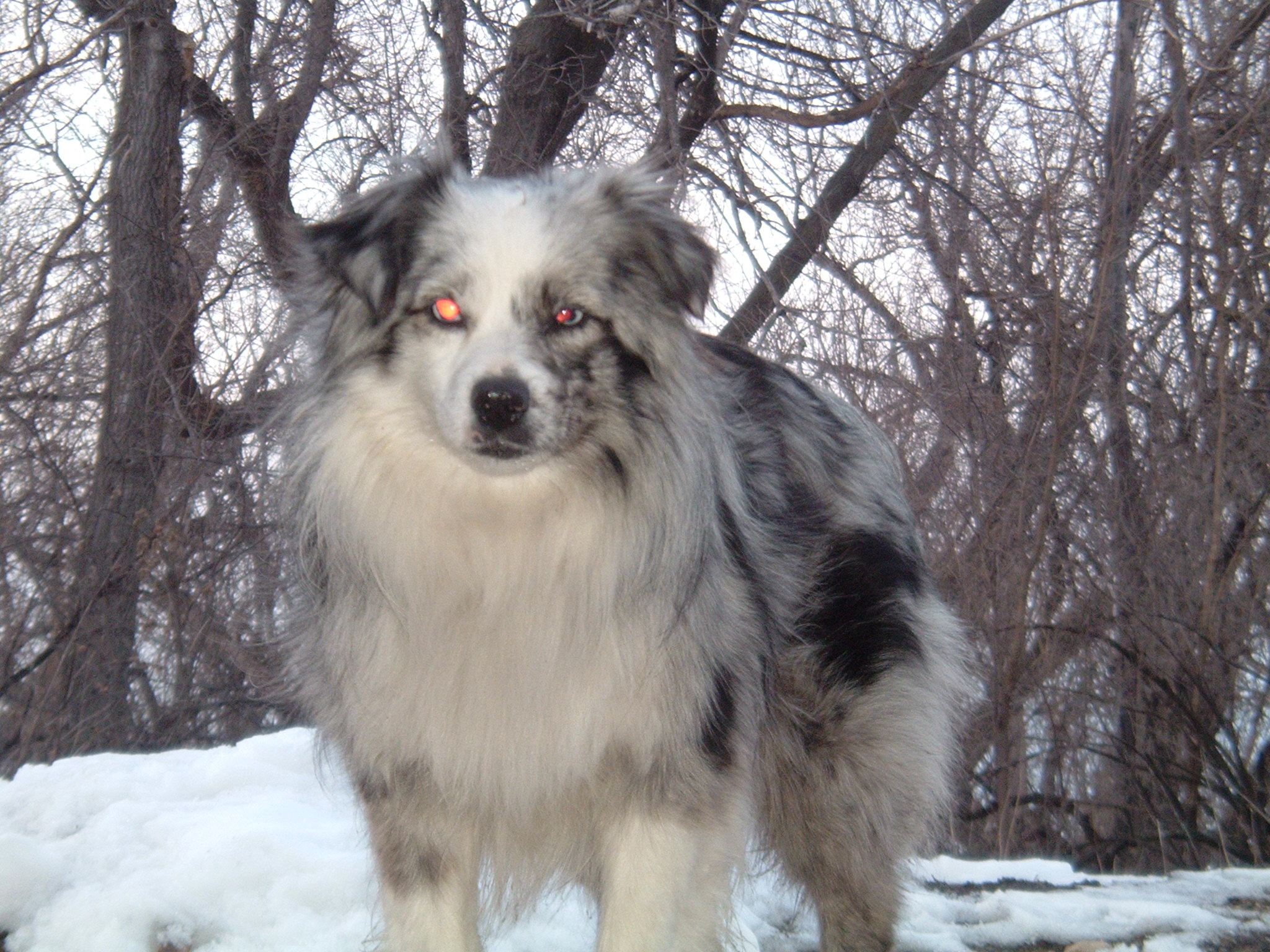 Honda's Full brother. Owned by a friend.




"Bugsy"
Red Tri female Mini at 14.5 inches & 30 lbs.
She's a real baby!! she's got a very gentle personality. She's never far from me, she sleeps with me, travels with us, and is truly part of our family!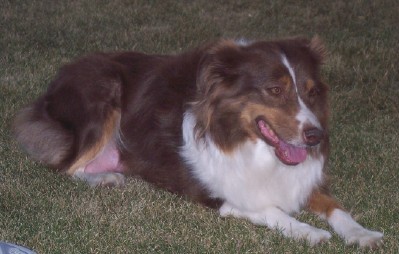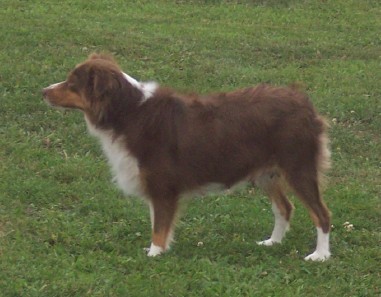 "Amber"
13 inch. Red Tri female
Everything is fun in her life,
always happy and adores to be right beside you.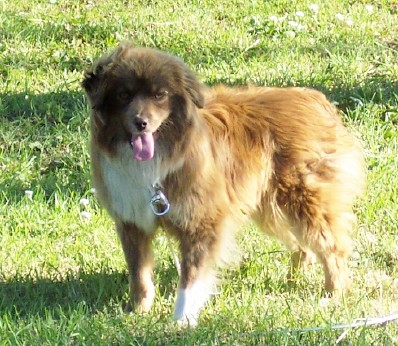 "Zoey"
13 1/2 inch 20 lbs. Black Tri Female
Real sweet calm personality, small & petite full coated.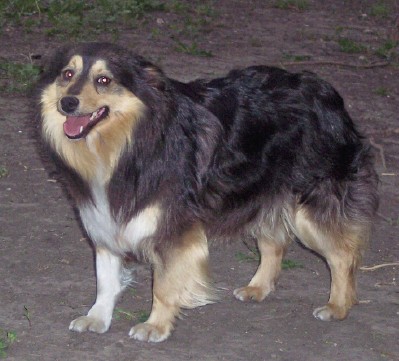 "Kip" (Male)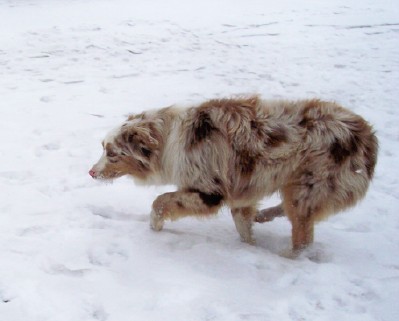 Here's Kip sneaking up on a horse in the round pen, Feb. 2007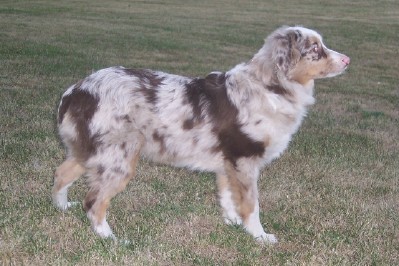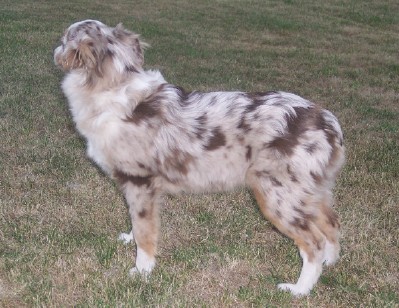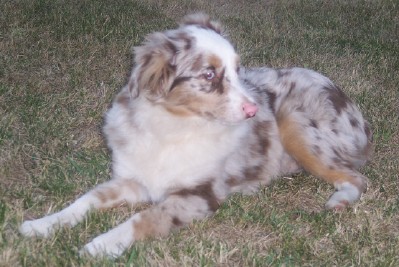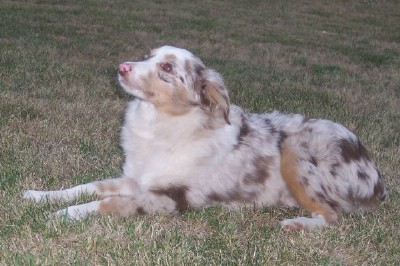 This is Kip our Jr. stud he pictured @ 7 months. Red Merle 1 blue eye.